Despite the Reserve Bank of India's surprise 50bps rate cut unveiled earlier this week, at least another 25bps rate cut can be anticipated next year, believes Deutsche Bank AG (NYSE:DB) (ETR:DBK) (FRA:DB). Taimur Baig and Kaushik Das said in their Oct. 1 research note titled: "RBI's bold move and fiscal update" that a disinvestment target of INR695bn looks ambitious.
The RBI's recent policy initiatives
Baig and Das expressed surprise at the RBI's 50bps rate cut announcement earlier this week. They point out that the move reflects the central bank's comfort with the path of inflation in the next 12-15 months. The analysts also highlight the other notable measures unveiled by the RBI in the latest meeting, including a time-bound path to ease the statutory liquidity ratio, reducing the amount of hold-to-maturity securities by banks, a reduction in risk weights to housing loans for low income households, and easing of foreign investors' access to the government bond market over the next two years.
The DB analysts believe the RBI was comfortable with a 50bps rate cut because underlying inflation pressure remaining subdued and there was a sharp correction in global commodity prices.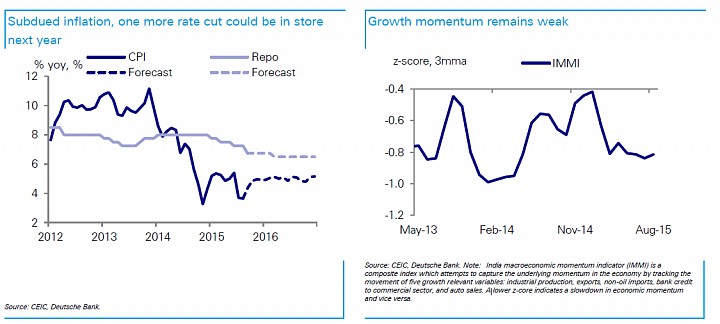 Baig and Das point out that India's...
More