Watch bullish breakout on daily! Increasing momentum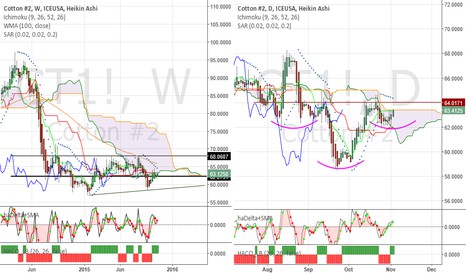 As I posted on Twitter, I bought Cotton Dec/15 futures contracts in last few days.
I see the charts firming bullish .

Weekly:
- Neutral Ichimoku . Price still ard 62-63 long term equilibrium (52 weeks average )
- Heikin Ashi showed hesitation last week, but it may give a new bullish wave signal this week. It is only tuesday, but haDelta/SMA3 above zero is promising
- Price will likely trade up in the previous range, possibly targetting 66-68 area
- Watch Price action around 100 WMA! In case we see more than two weeks candle closes above that, later any dip will be a buying opportunity as chances for a long term strategic bullish reversal would increase (but now it is a bit early to guess this scenario)

Daily:
- Price attempts a Bullish Kumo breakout! Ichimoku is turning bullish . Confirmation and likely bullish acceleration would happen with a trade above 64.
- As I posted on Twitter, yesterday price action was very interesting. Some tried to push it down again, but by end of day it closed on the top -> Bulls getting stronger, Bears may be grilled soon.
Today Heikin Ashi is firm bullish , with higher high, longer body with no lower wick indicates strong momentum gain!

Size up longs!