When it comes to biotech stocks, it's no secret that regulatory and clinical catalysts can generate enormous returns -- or losses -- for investors in the blink of an eye. With this in mind, let's take a deeper look at seven biotech stocks with highly anticipated catalysts scheduled for 2017 that could fuel jaw-dropping moves in their respective share prices.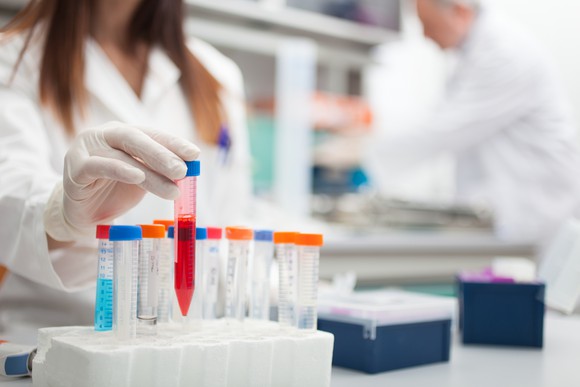 Agenus
The small-cap cancer immunotherapy company Agenus (NASDAQ:AGEN) is set to initiate an early stage clinical trial for its second anti-CTLA-4 antibody, AGEN2041, in 2017, and advance its other anti-CTLA-4 antibody, AGEN1884, into combination studies in the first half of 2017. Agenus is thus on track to have multiple checkpoint inhibitors in clinical trials next year, and the biotech's share price is starting to reflect this fact by jumping nearly 40% in just the last four weeks: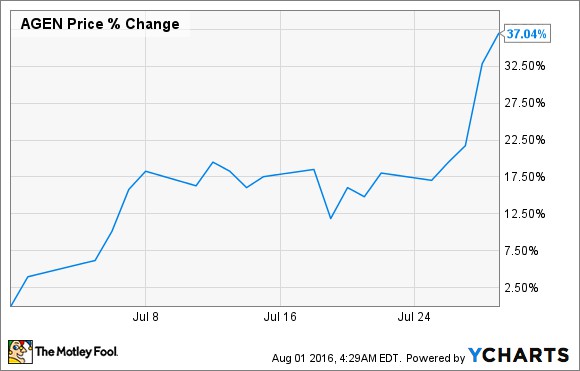 As nearly all of Agenus' checkpoint inhibitors have the potential to capture hundreds in million in sales for their various indications, there's little reason to believe this stock will lose momentum anytime soon.
Alnylam Pharmaceuticals
The RNA interference drugmaker Alnylam Pharmaceuticals (NASDAQ:ALNY) is expected to release top-line data for its ongoing phase 3 trial of patisiran as a possible treatment for familial amyloidotic polyneuropathy (FAP) form of transthyretin-mediated amyloidosis (ATTR) in the second half of 2017. After that, if the study is positive, the biotech plans on submitting regulatory applications for patisiran in both the U.S. and EU, putting a regulatory approval on track for perhaps early 2018. While not quite a blockbuster, patisiran's peak sales are still estimated to exceed $700 million, which would provide a much-needed lift for a company that's been burning over $100 million per quarter of late.
Clovis Oncology
The small-cap oncology company Clovis Oncology, Inc. (NASDAQ:CLVS) should release top-line data from its ARIEL3 pivotal maintenance study for the PARP inhibitor rucaparib in patients with platinum-sensitive, high-grade serous or endometrioid epithelial ovarian, primary peritoneal or fallopian tube cancer by mid-2017.
If positive, Clovis plans to submit regulatory applications for the drug's maintenance indications in tumor BRCA mutant patients and BRCA-like patients. The short story is that rucaparib is forecast to pull in close to $1 billion in sales as a treatment for these various forms of...
More