International paper is a paper and packaging company. It is multinational company and it works in North America, Europe, Latin America, Russia, Asia, Africa, and the Middle East. The company main businesses are Industrial Packaging(68% of sales), Printing Papers(23%of sales), and Consumer Packaging(9%of sales). Main production forces(about 80%) are located in USA.
Company's balance sheet looks quite solid. IP has a good dividend history with a stable growth(14%Y-o-Y), also company made a share buyback of 1,5bn in 2013 and 2014. We see a strong and sustainable ability to generate free cash flow. EBITDA margin is slowly growing.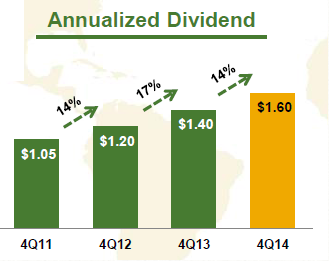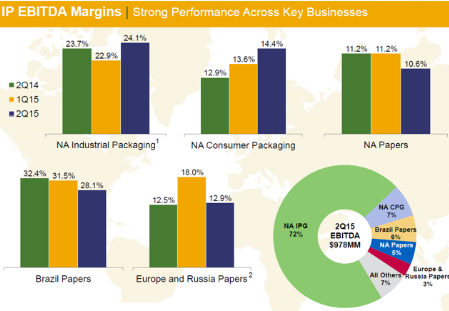 Paper and Packing is a mature industry with relatively low growth, but large companies such as IP are increasing their market shares. In 20 years IP market share in containerboards market increased from 7% to 32%, in uncoated free sheet from 13% to 20%.
The main segment of IP business is Industrial Packaging and we see increase in operating profit from this segment in US, but there are decline in sales and operating profit from Printing Papers, and Consumer Packaging, especially in the Old World. We see operating loss from all segments in Asia in recent years, so management decided to exit the on-the-ground manufacturing they do in China, but continue to import their products to China from Russia and USA. Management is actively managing their portfolio of assets.
Decline in sales is contributed mostly to prices decline due to competitive market, maintenance outages. These effects was smoothed by reduction in costs caused by cheaper natural gas,fuel and distribution expenses.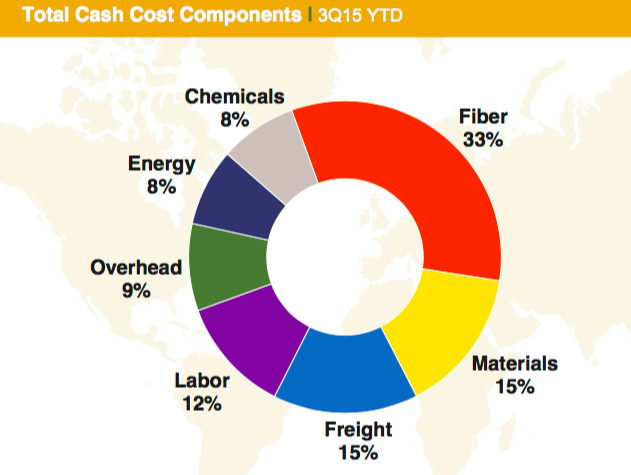 IP's ROIC exceeds WACC, company's margins remain high and more stable than competitors. IP has a smaller EBITDA average growth rate as it is more mature company than its peers.
Forward P/E( 31 dec 15) is about 12( 7.4 is a 5 years min, 18,56 is a 5 years max), EV/EBITDA is 7x.
International paper is trading 25% lower than in Jan15 and we see strong downtrend for 9 months, and its competitors are also in the red zone. We see that as a reflection to sales and operating profit decline, slowing growth rates. We believe that IP has a long term competitive advantages, but there are no signs that we could see reversal in near future. In 2008 price dropped -85% to 5.61 from it's previous high 38.6, so we see recession again company could repeat it's dropdown and lose more than half of it's value. Company remain volatile and it has 1,45 Beta.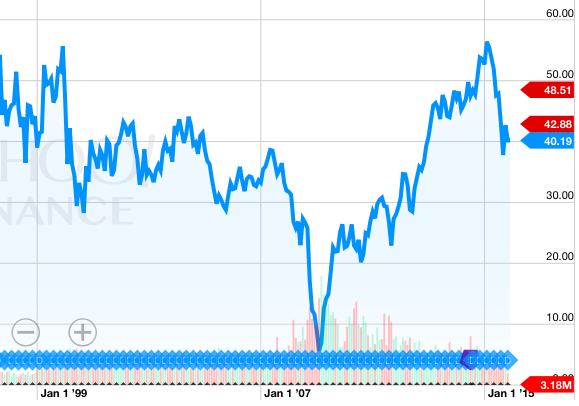 We don't think that IP would be a safe investment today at 40$ per share. We would restate our opinion about adding IP to our portfolio if price goes down to 27-30$ and other factors remain constant.