"Nobody's going to go buy a five-figure watch from a kid."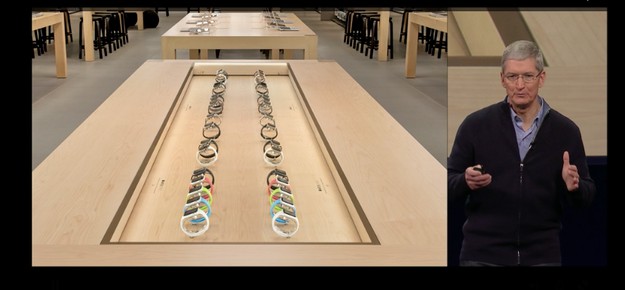 Apple / Via apple.com
As Apple hired a flurry of top-tier talent from the luxury retail business in the last 18 months, many believed the company was working on a new approach to high-end sales to go with its planned release of a $10,000 gold watch.
Its design chief Jony Ive has reportedly been working with retail boss Angela Ahrendts, the former Burberry CEO, on a redesign of its stores. But if such an overhaul is in the works, the company gave little hint of it in today's launch of the Apple Watch, saying only that the devices would be presented on a new custom table in Apple Stores, with viewings available in advance.
Customers will be able to try watches on via appointment at the Apple Store starting April 10 and pre-order the devices online. The company also partnered with a handful of high-end department stores and boutiques to sell the watches, including Galeries Lafayette and Colette in Paris, Isetan in Tokyo, Selfridges and Dover Street Market in London, and Maxfield in Los Angeles.
In his presentation announcing the watch, Apple CEO Tim Cook said the company's retail team "has worked out an incredible way" to present the devices, "and it starts with this beautiful custom table where you can see all of the Apple Watches beautifully displayed."
But it's still unclear what the experience will be for customers in the market for the company's 18-karat gold watch, which starts at $10,000 and can run to prices much higher than that. Cook noted there are "limited quantities" of the gold model and that it will be available only in "select retail stores."
Apple's current stores, while highly regarded among mainstream retailers, are still a vastly different experience to what is on offer in much of the luxury goods business.
"The problem with Apple Stores is they're packed, there's boatloads of people, the people are dressed very casually, and for your Apple dudes, your brand-loyal customer, that's fine," said Kathleen Jordan, a principal at design and architecture firm Gensler, who worked on the first Apple Store with Steve Jobs and former Apple retail head Ron Johnson. "But for the people that are brand-agnostic but are watch shoppers, they're going to need that shop-in-shop, they're going to need that set-aside quieter environment where somebody can walk them through all the details … because it's an investment."
Apple retail stores are famous for their innovative design, service, and, of course, their ability to mint money. Apple's 453 stores boast the highest sales per square foot in the retail world, leaving industry onlookers both salivating and shoving for neighboring spots in the mall or on the block.
The stores bring in about $4,799 in sales per square foot, according to eMarketer data. Tiffany & Co. brings in $3,132, Michael Kors $1,896, and Lululemon $1,675. (These numbers exclude major luxury retailers and private chains that don't share such data.)
While the Apple Store of 2014 expertly sells $1,000 gadgets, it doesn't offer the environment experienced by wealthy consumers in other luxury retailers selling very nice things at a very high price.
Take Tiffany's. A job listing for a branch security officer at the company's Nashville store notes the position is devoted to ensuring a secure environment, but adds that security officers are expected to welcome shoppers upon entry and thank them as they exit, provide customers with catalogs, water, seating and restroom directions "in a gracious manner," and "exhibit passion and enthusiasm by modeling elegance through appropriate wardrobe and presence." The word "gracious" appears six times in the listing. To reiterate: This is for a job as a security guard.
Apple Store shoppers are unlikely to be offered bottles of water and a comfy seat anytime soon, but change of some sort seems to be in the works. In a recent profile of Ive, the New Yorker noted he and Ahrendts have been working on a redesign of the brand's famous stores. Reporter Ian Parker described seeing a glass-topped Apple Watch display cabinet and mused about the notion of a roped-off, VIP area within Apple's stores, "perhaps less welcoming, at least in some corners, to tourists and truants."
"Ive later told me that he had overheard someone saying, 'I'm not going to buy a watch if I can't stand on carpet,'" Parker wrote.
And some high-roller shoppers will want more than just carpeted floors. "I would think how the salespeople dress, how they approach you, how they conduct a conversation — it has to be on a much more mature level than they currently have," Gensler's Jordan said. "Now they hire kids in the stores and it works perfectly, but nobody's going to go buy a five-figure watch from a kid."