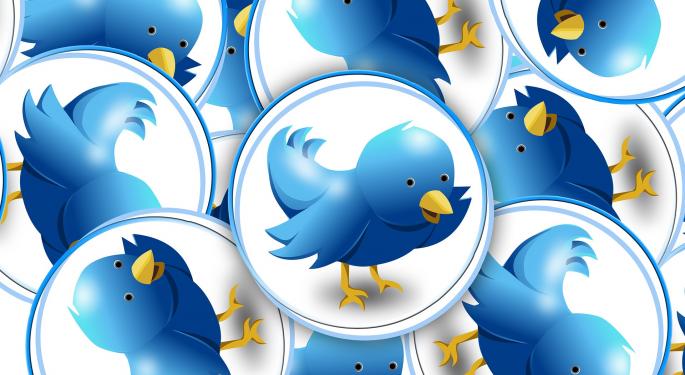 Rob Sanderson of MKM Partners believes Twitter Inc TWTR 0.73% has "great unmet potential" but he's concerned that "time may be running out."
Sanderson argued in a report that Twitter's Live Events represents a "make-or-break strategy" for the company and the segment needs to contribute an additional $1.2 billion in net revenue by 2019 for him to "become more bullish on the stock."
"To reach our return threshold would require a fairly hefty 30x multiple on forward non-GAAP earnings," Sanderson wrote. "We think this multiple would be justified if Live Events take hold and begin to drive a meaningful rebound in user engagement."
Sanderson also pointed out several other important milestones for Twitter to accomplish in order to create a "sustainable recovery" in its stock. Specifically, 1) the ability to leverage live content to sell advertising deals across the entire network, 2) qualifying for online video budgets, 3) overseeing a rebound in Direct Response advertising, 4) delivering on measurement initiatives, and 5) increasing not only user engagement but user retention and user growth.
The analyst also highlighted several areas of concern, including: 1) user growth stalling at 1-2 percent in the US and 3-4 percent international, 2) a difficulty in justifying monetization premiums, 3) heightened competitive environment, 4) partnerships with Google and DoubleClick are taking longer than expected to be fully released, 5) advertiser participation has stalled, and 6) recent efforts to improve user engagement and retention hasn't driven a recovery in user growth.
Bottom line, Sanderson recommends investors "remain on the sidelines" until there are clear signs of improving user retention and growth.
Date
Firm
Action
From
To
Aug 2016
Evercore ISI Group
Downgrades
Hold
Sell
Jul 2016
JP Morgan
Maintains
Neutral
Jul 2016
BMO Capital
Maintains
Market Perform
© 2016 Benzinga.com. Benzinga does not provide investment advice. All rights reserved.