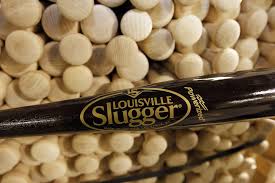 Wilson Sporting Goods is buying the Louisville Slugger brand of baseball bats for $75 million,  just weeks before the new season starts.
It's a perfect match of Glove and Bat , since Louisville Slugger is the official bat of Major League Baseball and Wilson is the league's official glove.
 Hillerich & Bradsby, the family-owned business that has made the bats for more than 130 years, will continue to make them for Wilson at its Louisville factory. Wilson is a unit of Finish sporting goods company Amer Sports (NASDAQ:AGPDY) .
Wood bats are only a small fraction of the market now days , used mostly by professional baseball leagues where as amateur players in school and recreational leagues generally use aluminum or composite graphite bats that cost hundreds of dollars more than wood bats. 
John Hillerich IV, the CEO of the company, said the decision to sell the brand was difficult for the family, but that it could no longer compete with major global sporting goods manufacturers.
"We are excited to welcome Louisville Slugger into the Wilson family. Growing our baseball and softball business globally is a key business strategy," Wilson President Mike Dowse said in a statement. "We believe Louisville Slugger will enrich our company significantly, enhance our baseball and softball product offering at all levels of the game, and ensure we are delivering only the best performance products to athletes of every age."