By Sarah Roden
Chinese e-commerce giant, Alibaba Group Holding Ltd (NYSE:BABA), posted disappointing earnings results yesterday, August 12. Shares slid -6.25% in pre-market trading to $72.50 before hitting a new record low of $71.03. Shares later rebounded slightly and closed at $73.38.
Alibaba posted quarterly revenue of $3.265 billion, missing the analyst estimate of $3.4 billion. Although this marked a 28% year-over-year increase, it is evidence of decelerating growth as the company has posted revenue growth averaging 56% over the last 12 quarters. Alibaba also posted disappointing gross merchandise volume of 34%, missing the analyst consensus of 38%. Gross merchandise volume measures how much money consumers spend on the website and is seen as a key metric of business growth for online retailers. Other than decelerating sales, the company posted non-GAAP diluted earnings per share of $0.59, slightly ahead of the analyst estimate of $0.58.
As a result of the stagnating Chinese economy and concerns over dropping share prices, Alibaba announced it will buy back up to $4 billion worth of shares over a two-year period.
Management was optimistic about the report. CEO Daniel Zhang commented, "We had a strong quarter and we continued to build the foundations for future growth. We focused our efforts on building healthy GMV growth, delivering the best consumer experience, and improving the quality and sustainability of merchants doing business on our marketplaces." The company also highlighted its growing cloud computing segment, which grew 106% year-over-year and is now considered to be the "No. 1 market leader in cloud computing services in China."
The report also briefly addressed concerns surrounding Alibaba's counterfeit goods scandal, noting that the company is taking steps to ameliorate the issue by using "proprietary data technology and [collaborating] with government agencies in China."
Analysts were eager to weigh in on Alibaba following earnings. Youssef Squali of Cantor Fitzgerald maintained a Buy rating on the stock but lowered his price target from $110 to $95 after earnings. Squali noted that the results were "mixed" due to "strong growth in mobile commerce," but "offset by the suspension of the Lottery business and the transfer of the SME loan business." The analyst noted that user growth was "still healthy," but slower than expectations. Even though the overall monetization rate in China was 2.33% compared to 2.52% in the same period last year, Squali is encouraged by the substantial growth in mobile monetization, which was 2.15% compared to 1.49% in the same period of last year. Squali concluded, "We expect Alibaba to continue to dominate the rapidly growing Chinese ecommerce market for years to come, but we also believe that near-term predictability of growth and margins has deteriorated given the macro backdrop in China."
Youssef Squali has a 61% overall success rate recommending stocks with a +20% average return per rating when measured over a one-year horizon and no benchmark.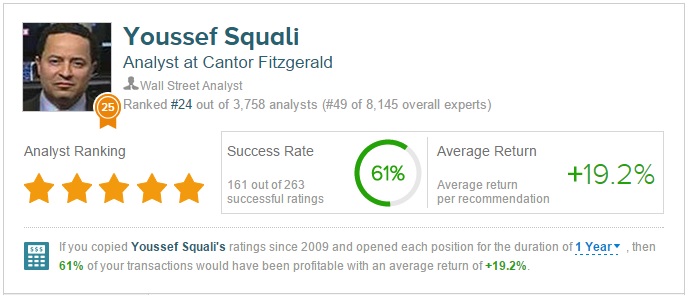 Separately on August 12, Mark Mahaney of RBC Capital maintained an Outperform rating on Alibaba though he cut his price target from $105 to $91. The analyst acknowledged that the company's earnings report had "mixed" results, as it missed top-line estimates but "beat on bottom." Mahaney touched on several key points, first pointing out that BABA beat the consensus for mobile and desktop trends, in turn leading to impressive mobile revenue. The analyst continued, "We think BABA's view on logistics has shifted, and we expect greater emphasis/investments in enhancing service options/ improving delivery speeds." Mahaney concluded, "We are less Bullish, at the margin… Positively, Mobile Monetization improvements are significant, given this is clearly a key Consumer Demand trend. And growth, while decelerating, is robust… And we see BABA as having significant option value in non-retail revenue streams in China, int'l expansion, and a series of major strategic investments."
When measured over a one-year horizon and no benchmark, Mark Mahaney has a 64% success recommending stocks with a +23.1% average return per rating.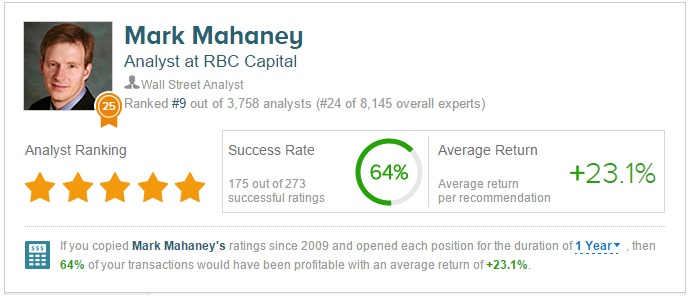 According to the 10 analysts polled by TipRanks in the last 3 months, 9 are bullish on Alibaba and 1 is neutral. The average 12-month price target on the stock is $100.63, marking a 37% potential upside from where shares last closed.