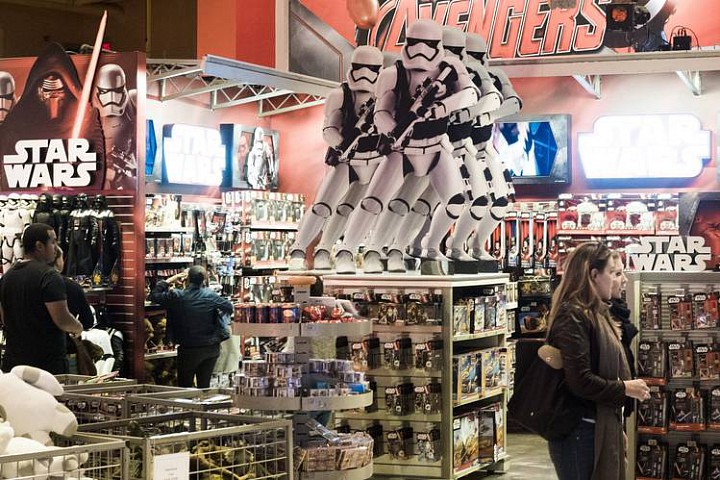 "Star Wars" is causing a great disturbance in the toy aisles.
Wal-Mart Stores Inc., WMT 2.57 % Target Corp. TGT 1.37 % and other retailers have loaded up on plastic lightsabers, robotic Yodas and other toys tied to the coming movie, crowding out shelf space and inventory dollars elsewhere in the toy section. The big bets are pushing orders for toy makers, such as Mattel Inc., MAT 2.50 % closer to the holidays and squeezing some smaller competitors in the $22 billion U.S. toy industry.
One property hit hard: "Peanuts."
Iconix Brand Group Inc., ICON 0.57 % which controls the license to the newest animated Charlie Brown movie, this month cut its sales outlook from "Peanuts" licenses by $24 million for the year largely because it miscalculated how many Snoopy dolls and other "Peanuts" products retailers would buy.
Iconix Chairman Peter Cuneo said retailers devoted much more space than expected to the "Star Wars" brand, rather than gamble on an older property such as "Peanuts" that is being reintroduced to a younger crowd.
"If they have to make a choice between the new guy on the block, 'Peanuts' and 'Star Wars,' they're going to choose, and they have chosen, 'Star Wars,' " Mr. Cuneo said last week.
Retailers often make extensive changes to toy aisles from year to year, owing to what movies or television shows are popular with children, or what hot toys have emerged. But this "Star Wars" release has been different: "The Force Awakens" is the first since Walt Disney Co. DIS 0.94 % bought Lucasfilm Ltd. for $4.1 billion in 2012. Disney organized retailers to carry out "Force Friday," an event that trumpeted the first release of "Star Wars" toys, in early September. And it continues to build hype with the release of new trailers ahead of the...
More