The Oracle of Omaha, Warren Buffett, chairman of Berkshire Hathaway, talked with Becky Quick of CNBC a short while ago, ahead of a charity lunch that one individual paid $2.3 million to have with him.
The interview started off with Buffett's revelation that Berkshire added to its 8.1% position in International Business Machines (IBM) in August.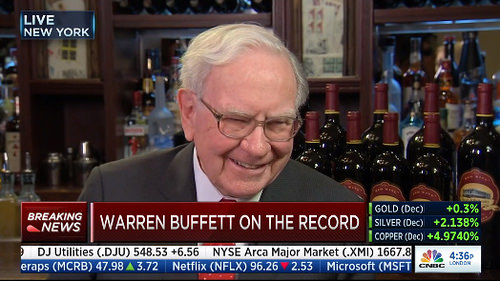 Quick asked Buffett about the company's pending acquisition of Precision Castparts (PCP) for over $30 billion.
Said Quick, "You've spent a lot of money recently; Does that leave you short of cash, when you see a pullback like this?"
No, Buffett's not short of cash, he indicated:
"We know we're going to be laying out $32 billion in the next four to five months. I've still got money left to buy. I'll never go below $20 billion of cash, in fact I won't go close to it, because I don't want to go below it. We may be a little less aggressive in buying in the open market. We may be buying $500 million a week, so over four weeks that's $2 billion, that's not a lot. I haven't held back because of that upcoming purchase."
Is that a "normal week" for Berkshire?, asked Quick. "It can be," he replied. "Sometimes it's $200 million; usually when stocks are going down, the volume goes up. I like high-volume days, from the standpoint of our purchases." Still, Buffett cautioned that he didn't want to buy more than 20% of the volume of a given stock on any given day.
Quick asked Buffett about Berkshire's disclosure of its $4.5 billion stake in Phillips 66 (PSX), after having sold out of Exxon-Mobil (XOM) last year.
Said Buffett, "They're in different businesses; Phillips has no upstream production, which is most of the valuation in Exxon. But it's [Phillips] not a pure refiner, either. We're not buying it as a refiner. We're buying it because we like the company."
"We like the management very much," said Buffett, praising the way CEO Greg Garland has run things. "I like the company."
Asked Quick, "Can you eventually buy it outright?"
"That would be a long stretch from here," replied Buffett. "We would only do something in any company if they wanted us to. And I think they like being independent."
Asked about investments in oil and gas generally, Buffett said, "I think that's the only company connected with oil and gas that we own, though Precision makes...
More