Alphabet Inc. GOOGL subsidiary Google's troubles in Europe took a turn for the worse as the European Commission (EU) closed one of its year-long investigations into the company's antitrust cases with a record-breaking fine.
The case is related to Google favoring its shopping service over those of rivals. Yesterday, the Commission declared a $2.7 billion (2.42 billion euro) fine stating that "What Google has done is illegal under EU antitrust rules." The amount is 3% of Alphabet's worldwide revenues in 2016 ($90 billion).
Investigations by EU reveal that Google has been pushing rival shopping sites back to the fourth page of its search results, thus limiting their reach. As much as 95% of all clicks are recorded through the first page.
European Competition Commissioner Margrethe Vestager stated the company not only violated competition rules but also tried to impose restrictions on choices of European consumers. It is the biggest fine ever imposed on a company in the history of antitrust cases, more than double the previous record of $1.20 billion (2.42 billion euro) imposed on Intel INTC in 2009.
Alphabet has underperformed the Zacks categorized Internet-Services sub-industry over the last one year. Shares gained roughly 35.8% compared with the industry's gain of about 36.6%.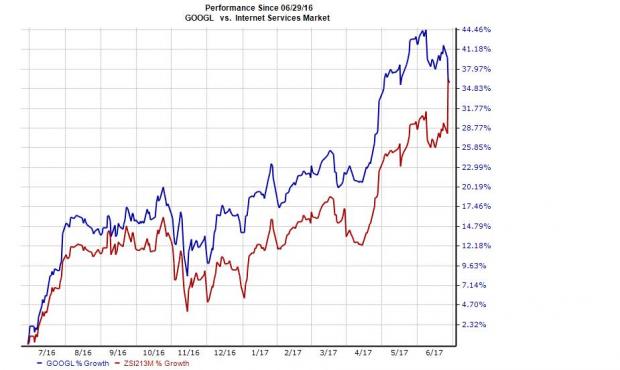 EU Wants Google to Treat Rivals Fairly
EU did not state specifically what Google should do but has given it a 90-day deadline to stop misusing its search results for its own interests. Failure to comply with the same will lead to additional fines of up to 5% of average daily global revenues of its parent company.
It will have to update the Commission with planned measures within 60 days of the decision and present periodic reports. Eventually, Google might have to alter its business model, specifically its search algorithm.
If the measures satisfy the Commission, it may apply these for other companies like Facebook FB, Amazon AMZN or eBay that also recommend search for products or services.
Google is Obviously Unhappy with the Verdict
Google tried to put up a defense by stating that it takes users directly to their preferred products rather than websites.
Google's general counsel Kent Walker stated "We respectfully disagree with the conclusions announced today. We will review the Commission's decision in detail as we consider an appeal, and we look forward to continuing to make our case."
Alphabet Inc. Net Income (TTM)
We See No Reason Why Google Shouldn't Comply
Google currently holds around $92 billion in cash. Though that's a significant amount, it may not be a cause as of now. But that's not all. There are two more cases against it with decisions pending.
One of these is related to Google using the Android platform to force hardware makers bundle Google services and prevent the preloading of rival services on the devices. The other involves restricting access to ads provided by its competitors, which might hit its core AdSense business.
If Google faces fines of a similar scale, the amount will be close to 10% of its cash. There could be fines for non-compliance on top of that.
Besides being an additional drain on resources and tarnishing its image, non-compliance could compound its woes.
If EU outlines the changes Google should bring to its business, it may put pressure on its search-ad revenues. Other services such as maps and restaurant reviews may also become regulatory targets leading to more penalties.
Investors are Watching
Alphabet has shown good execution to date. Its search market share is a big positive, which along with its focus on innovation, strategic acquisitions and Android OS continues to generate strong cash flows.
Google's search technology has created win-win situations over the years, benefiting buyers, sellers and the public at large. The success of this strategy led to strong growth for the company and gave it near monopoly. However, if Google continues to suffer regulatory setbacks such as this, it will be at a risk of losing its advantage.
Again, a drain on its huge cash balance could significantly reduce management's flexibility to pursue growth in potential areas and various markets. Cash balance is Google's main weapon to counter competition, maintain its leading position and create consistent value for investors.
We will have to wait and see how Google counters the situation.
Alphabet currently carries a Zacks Rank #3 (Hold). You can see the complete list of today's Zacks #1 Rank (Strong Buy) stocks here.
Today's Stocks from Zacks' Hottest Strategies
It's hard to believe, even for us at Zacks. But while the market gained +18.8% from 2016 - Q1 2017, our top stock-picking screens have returned +157.0%, +128.0%, +97.8%, +94.7%, and +90.2% respectively.
And this outperformance has not just been a recent phenomenon. Over the years it has been remarkably consistent. From 2000 - Q1 2017, the composite yearly average gain for these strategies has beaten the market more than 11X over. Maybe even more remarkable is the fact that we're willing to share their latest stocks with you without cost or obligation. See Them Free>>
Want the latest recommendations from Zacks Investment Research? Today, you can download 7 Best Stocks for the Next 30 Days.
Click to get this free report
Amazon.com, Inc. (AMZN): Free Stock Analysis Report
Facebook, Inc. (FB): Free Stock Analysis Report
Alphabet Inc. (GOOGL): Free Stock Analysis Report
Intel Corporation (INTC): Free Stock Analysis Report
To read this article on Zacks.com click here.
Zacks Investment Research