What happened
Shares of PRA Group (NASDAQ: PRAA), a global leader in acquiring and collecting nonperforming loans, closed nearly 14% lower Wednesday after the company released weaker-than-expected second-quarter results that sent some investors heading for the exits.
So what
There were a handful of business and financial highlights worth noting. Starting from the top, total revenue checked in at $200.3 million, a decline from the prior year's $228.5 million and also below analysts' estimates of $209.2 million. Net income took a more drastic plunge, dropping from $36.5 million during the prior year down to $11.7 million during the second quarter. That bottom-line result was worth $0.25 per share, which fell far short of analysts' estimates calling for $0.50 per share, according to Thomson Reuters.
Now what
For investors keeping track, large double-digit swings in share price aren't out of the ordinary for PRA Group.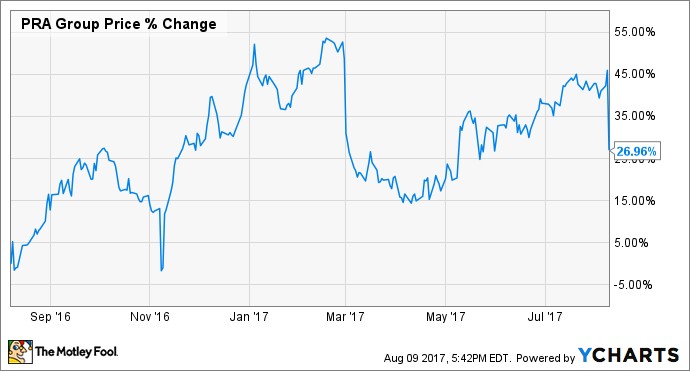 Kevin Stevenson, president and chief executive officer, had this to say in a press release:
We continue to be excited about volumes and the significant level of investment in both core and insolvency in the United States. We are committed to working with customers to resolve their debt and helping sellers optimize the value of their charged-off inventories. To accommodate larger purchasing volumes, we are preparing to open new call centers in the U.S. During the quarter, we saw growth in currency adjusted cash collection in all segments except for Americas insolvency, which grew sequentially for the first time in three years. We are very encouraged by both the industry and internal trends.
Management remains optimistic about trends, but it's clear the focus needs to be shoring up the bottom line and igniting top-line growth. PRA Group has hired nearly 900 net new U.S. collectors since June 2016, and almost 250 collectors during the second quarter of 2017 alone. That could help push the top line higher, but management has its work cut out for it in the near term.
10 stocks we like better than PRA Group
When investing geniuses David and Tom Gardner have a stock tip, it can pay to listen. After all, the newsletter they have run for over a decade, Motley Fool Stock Advisor, has tripled the market.*
David and Tom just revealed what they believe are the 10 best stocks for investors to buy right now... and PRA Group wasn't one of them! That's right -- they think these 10 stocks are even better buys.
Click here to learn about these picks!
*Stock Advisor returns as of August 1, 2017
Daniel Miller has no position in any stocks mentioned. The Motley Fool owns shares of and recommends PRA Group. The Motley Fool has a disclosure policy.