In February, there were 295K jobs added to the US economy according to the Non-Farm Payroll report. This beat forecasts of 240K. The January print was revised down slightly to 239K from 254K. 


(click to enlarge; source: forexfactory.com)
Meanwhile, the unemployment rate fell faster than expected to 5.5% from 5.7%. Forecasts called for a drop to 5.6%. Remember, 3 to 5% is considered the "natural" unemployment rate, and its getting close.


(click to enlarge; source: forexfactory.com)
Despite the strong jobs growth, wages did not grow much. Average hourly earnings came in at 0.1% after a 0.5% print for January. Forecasts called for a 0.2% reading. As the Bureau of Labor Statics shows, hourly earnings in of year-to-year terms has been suck around 2.0% since 2010: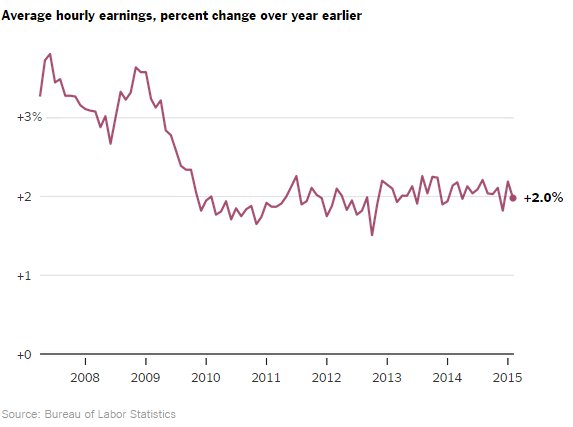 (BLS)

Still, the USD was lifted across the board. The jobs data indicates that the FOMC will be able to raise rates this year .
USD/JPY 4H Chart 3/6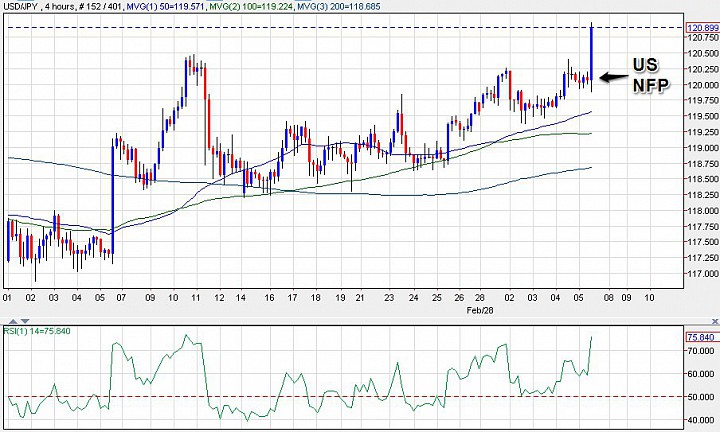 (click to enlarge)

The USD/JPY for example has been drifting higher, but accelerated after the US jobs report. It is now poised to test the 121.70 high with risk of breaking higher. While the FOMC is looking to raise rates, the BoJ continues its stimulus measures without any indication of slowing down.