WESCO International, Inc. WCC reported better-than-expected third-quarter 2017 results surpassing the Zacks Consensus Estimate on both counts.
Earnings of $1.12 per share beat the consensus mark by 9 cents, increasing 9.8% sequentially and 6.7% year over year. Revenues came in at $2 billion, beating the Zacks Consensus Estimate by 81 million. The top line was up 4.7% sequentially and 7.8% year over year.
We observe that the stock has gained 1.7% since the release of the results, against the industry's decline of 0.9%. On a year-to-date basis, the stock has declined 3.9% compared with the industry's decline of 1.8%.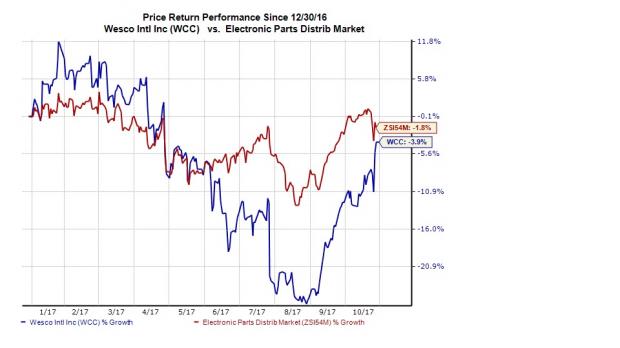 The year-over-year sales growth was driven by strength across all end markets and geographic regions, improved sales execution and positive pricing.
At the call, management stated that it is focused on delivering above-average sales growth, profitability improvement, strong cash flow generation and increasing shareholder value.
The company continues to invest progressively in the One WESCO initiative aimed at creating extensive supply chain management solutions by integrating its portfolio of products and services and its supplier relationships. This initiative has been augmenting the company's service capabilities, helping it to adapt to the dynamic needs of its clientele.
It has been creating considerable synergies across business platforms and led to significant customer wins as well. In addition, the initiative is also helping WESCO to identify growth potential in untapped markets.
The company has a comprehensive portfolio of products and services and a sizable global footprint, which will help drive growth, going forward. On the flip side, supplier concentration, a significant debt load and limited liquidity are concerns.
Let's see what the numbers say.
Revenues in Detail
Sequentially, revenues exhibited a growth rate that was within the company's expected range of 2% to 5%. Organic sales were up 4.8% sequentially and 8.6% year over year. The year-over- year growth was the highest in the last five years. Foreign exchange had a 0.8% positive impact on revenues.
WESCO International, Inc. Revenue (TTM)
End Market Update
Industrial End Market: WESCO stated that organic sales from the Industrial end market were up 11% year over year driven by 5% sales growth in the United States and 20% growth in Canada in local currency. Sales also grew sequentially driven by growth in OEM, oil and gas, metals and mining and OEM customers.
Construction End Market: The Construction market was up 6% year over year with the United States up 5% and Canada 6% in local currency. The improvement was driven by growth in sales to nonresidential construction and contractor customers.
Utility End Market: Organic sales to the Utilities market were up 9%. Strong performance across both customer groups — investor-owned utilities and public power customers — drove this growth.
CIG End Market: Organic sales to the CIG market were up 9% with in the United States growing 5% and Canada up a massive 30% in local currency. Sales were driven by strength across technology customers that include data centers, broadband and cloud technology projects, and growth resulting from LED lighting solutions, fiber-to-the-X deployments, broadband build-outs as well as cyber and physical security for critical infrastructure protection.
Margins
Gross profit was $385.4 million, or 19.3% of sales. Gross margin was up 10 basis points (bps) sequentially but down 40 bps from last year. The decline was mainly due to lower gross margin rate associated with international sales growth.
Operating expenses of $296.1 million were up 4.6% sequentially and 8.7% from the year-ago quarter. Selling, general and administrative expenses were flat sequentially but increased 20 bps year over year as a percentage of sales. Depreciation and amortization expenses decreased slightly sequentially and 10 bps year over year as a percentage of sales.
Operating profit of $89.3 million (or 4.5% of sales) was up 10 bps sequentially but down 50 bps from a year ago.
Balance Sheet
Cash and cash equivalents at the end of the third quarter was $94.1 million compared with $87.8 million at the end of the second quarter. Long-term debt was $1.37 billion compared with $1.33 billion in the second quarter.
The company generated $81.1 million in cash from operations. Capex was $16 million. It repurchased $50 million worth of shares during the quarter. Free cash flow was 15% of net income.
Guidance
The company expects third-quarter sales to be up 5% to 8%. Operating margin is expected within 3.9% to 4.3%. Effective tax rate for the quarter is expected to be roughly 27%.
For 2017, the company raised its sales growth expectations from 1% to 3% to 3% to 4%. Earnings per share are now expected in the range of $3.75 to $3.95 compared with the previous expectation of $3.60 to $3.90. The company continues to expect its free cash flow to be at least 90% of net income.
Zacks Rank and Stocks to Consider
Currently, WESCO has a Zacks Rank #3 (Hold).
Better-ranked stocks in the broader technology sector include Applied Materials, Inc. AMAT, NVIDIA Corporation NVDA and Vishay Intertechnology, Inc. VSH, all sporting a Zacks Rank #1 (Strong Buy). You can see the complete list of today's Zacks #1 Rank stocks here.
The long-term earnings growth rate for Applied Materials, NVIDIA and Vishay is projected to be 17.1%, 11.2% and 20.6%, respectively.
Zacks' Best Private Investment Ideas
While we are happy to share many articles like this on the website, our best recommendations and most in-depth research are not available to the public.
Starting today, for the next month, you can follow all Zacks' private buys and sells in real time. Our experts cover all kinds of trades… from value to momentum . . . from stocks under $10 to ETF and option moves . . . from stocks that corporate insiders are buying up to companies that are about to report positive earnings surprises. You can even look inside exclusive portfolios that are normally closed to new investors.
Click here for Zacks' private trades >>
Want the latest recommendations from Zacks Investment Research? Today, you can download 7 Best Stocks for the Next 30 Days.
Click to get this free report
WESCO International, Inc. (WCC): Free Stock Analysis Report
NVIDIA Corporation (NVDA): Free Stock Analysis Report
Vishay Intertechnology, Inc. (VSH): Free Stock Analysis Report
Applied Materials, Inc. (AMAT): Free Stock Analysis Report
To read this article on Zacks.com click here.
Zacks Investment Research