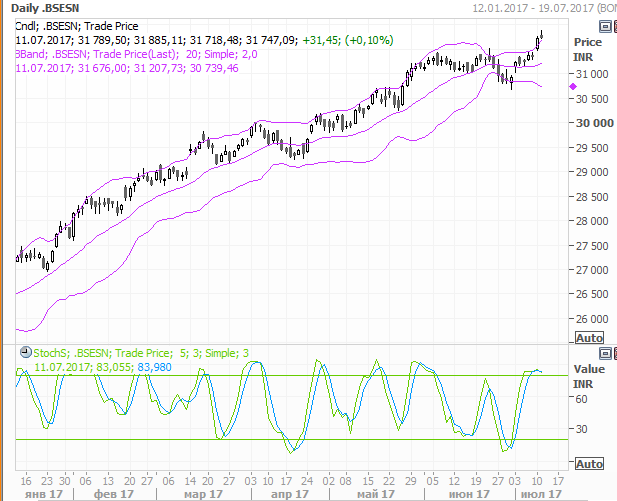 Indian stock indices trended higher on Tuesday, July 11 in sync with Asian equities, with tech names outperforming. The Nifty 50 and the BSE Sensex reached new record highs as the former climbed 0.15% to 9,786.05, and the latter advanced 0.10% to 29,858.80.

By 10:40 GMT, the USD/INR currency pair firmed 0.18% to 64.574, and EUR/INR was 0.10% higher at 73.5750. The 10-year Indian government bond yield widened to 6.478%.
In sectoral terms, FMCG and durable goods suppliers as well as banking names underperformed the broader market, while IT, industrial and energy stocks logged gains.
On the NSE, the session's frontrunners included Hindalco, Tata Motors and Bajaj Auto, which surged 2.5%, 2.22% and 2.3%, respectively. In the bear camp, Bharti Airtel, Bank of Baroda and Wipro plunged 2.5%, 2.4% and 1.9%.
IT names tracked US peers higher, with Infosys picking up 1.9%.
Among the decliners, SpiceJet stood out, shedding 3.3% as the media reported that its former promoter filed a lawsuit, seeking compensation from the company.
The daily chart shows that the BSE Sensex has broken out of the upper line of Bollinger bands, while the Slow Stochastic Oscillator has entered overbought territory. As a result, a corrective downturn can be expected in the short term.