Shares of premium professional services and technologies provider, KBR Inc. KBR, rose an impressive 8.3% at the close of market on Aug 3, following the company's second-quarter 2017 earnings release.
Investors cheered as the company's earnings came ahead of the expectations. Also, an upward guidance revision added to their confidence.
The company's earnings came in at 54 cents per share, topping the Zacks Consensus Estimate of 49 cents by 10.2% and up 68.7% year over year. Decent top-line performance and a $35 million gain associated with the PEMEX settlement increased earnings.
KBR, Inc. Price, Consensus and EPS Surprise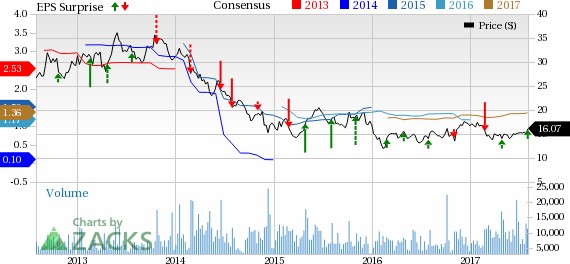 KBR, Inc. Price, Consensus and EPS Surprise | KBR, Inc. Quote
Inside the Headlines
Revenues were up 8.4% year over year to $1,094 million. Also, the top line surpassed the Zacks Consensus Estimate of $1,069 million. The sturdy top-line rise is primarily attributable to recent acquisitions in the Government Services segment and organic growth from contracts with the U.S. Military.
Segment wise, Technology & Consulting revenues fell 16.3% year over year to $82 million. Lower volume of proprietary equipment sales weighed down on the top-line performance of this segment.
Moreover, Engineering & Construction revenues continued their weak trajectory and decreased 25.6% year over year to $462 million. Reduced activity on several projects continues to hurt sales of this business.
However, Government Services revenues soared 137.1% to $543 million on a year-over-year basis. Previously completed buyouts, including Wyle and Honeywell Technology Solutions, Inc. in the third quarter of 2016, proved to be major catalysts. Furthermore, continued expansion of task orders on existing U.S. Government contracts, including LogCAP IV, as well as other base operational support services (BOSS) contracts to support the U.S. military, boosted the top line of this segment.
On the other hand, Non-strategic Business revenues plummeted 88.5% year over year to $7 million owing to lower activity on EPC power projects. KBR has been strategically winding down its fixed-price EPC power projects in the U.S. to focus on core profitable areas.
As of Jun 30, 2017, the company's total backlog was $10.3 billion.
Major Contract Wins
Under the Government Services business, KBR clinched a three-year follow-on task order by the U.S. Army for missile defense systems for the Department of Defense (DoD) and three-year task order to provide programmatic support to the U.S. Army's Program Executive Office (PEO) for Aviation. This apart, KBR secured an engineering services contract by NASA to support more than 20 NASA exploration missions.
In the Technology and Services business, the company won Operator Training Simulator and Reliability Based Maintenance services contracts by JSC EuroChem Northwest for their ammonia plant under construction. KBR's Engineering and Construction business secured a Front-End Engineering Design (FEED) and project management services contract for Oman Liquefied Natural Gas LLC (Oman LNG) in Qalhat, Oman. Also, it clinched a program alliance contract by the Victorian Government for railroad crossing removal projects in Victoria, Australia.
Liquidity & Cash Flow
As of Jun 30, 2017, KBR's cash and equivalents were $491 million, down from $536 million as of Dec 31, 2016.
For the quarter, cash flow provided by operating activities came in at $325 million, significantly higher than $9 million recorded in the year-ago quarter.
Guidance
Concurrent with the earnings release, KBR raised its full-year 2017 results. Currently, it expects adjusted earnings per share guidance in the band of $1.25–$1.45 per share compared with the earlier guided range of $1.10–$1.40. This guidance excludes legal costs associated with legacy U.S. Government contracts. KBR projects incurred legal costs of around $9 million or 7 cents per share for 2017. This estimated legacy legal fees exclude any future cost reimbursement from the U.S. Government.
KBR reiterated its EBITDA guidance, which is expected to come in the range of $300–$350 million. Over 70% of the projected earnings are expected to be generated from contracts already secured in KBR's backlog at year-end 2016. The company has also raised its cash flows guidance and now expects it in the range of $120–$200 million for 2017, up from the previous guidance of $100–$200 million.
Our Take
KBR's second-quarter top- and bottom-line beats went down well with the investors. KBR has a diverse mix of business portfolio that helps the company combat cyclicality associated with any single market. Presently, the company is banking on the strength of its Government Services businesses to optimize its growth potential. The particular business is growing steadily, adding to KBR's bliss. The company's strategy to reduce its dependence on large projects and focus on winning multiple smaller, more recurring and predictable services work is paying off.
Also, KBR's present backlog level of $10.3 billion highlights the company's underlying strength. Over time, it has diversified its backlog and significantly reduced the risks associated therewith. About 65–70% of the backlog represents work in the Government Services. Majority of these Government Services are long-term reimbursable service annuity-type contracts that have significantly lower risks than some of the other projects. This is expected to aid in margin expansion of the Zacks Rank #3 (Hold) company.
Stocks to Consider
KB Home KBH sports a Zacks Rank #1 (Strong Buy) and has an average positive earnings surprise of 12.5% for the past four quarters, having beaten estimates all through. You can see the complete list of today's Zacks #1 Rank stocks here.
NCI Building Systems, Inc. NCS also sports a Zacks Rank #1 and has an average earnings surprise of 11.3% for the last four quarters.
EMCOR Group EME has a decent earnings beat history, having surpassed estimates thrice over the trailing four quarters. The Zacks Rank #2 (Buy) stock has an average positive surprise of 11.7% over the same time frame.
More Stock News: Tech Opportunity Worth $386 Billion in 2017
From driverless cars to artificial intelligence, we've seen an unsurpassed growth of high-tech products in recent months. Yesterday's science-fiction is becoming today's reality. Despite all the innovation, there is a single component no tech company can survive without. Demand for this critical device will reach $387 billion this year alone, and it's likely to grow even faster in the future.
Zacks has released a brand-new Special Report to help you take advantage of this exciting investment opportunity. Most importantly, it reveals 4 stocks with massive profit potential. See these stocks now>>
Want the latest recommendations from Zacks Investment Research? Today, you can download 7 Best Stocks for the Next 30 Days.
Click to get this free report
NCI Building Systems, Inc. (NCS): Free Stock Analysis Report
EMCOR Group, Inc. (EME): Free Stock Analysis Report
KB Home (KBH): Free Stock Analysis Report
KBR, Inc. (KBR): Free Stock Analysis Report
To read this article on Zacks.com click here.
Zacks Investment Research