Summary
As the stock price has declined substantially, the business has grown substantially.
The company is No. 1 in pure EV sales in China for 2014 and 2015 first half.
The company is a first mover in a rapidly growing sector that will ultimately dominate car and truck sales in China.
The company beats Tesla on growth rate, profitability and prospects, and is not yet in the spotlight.
Q2 company guidance indicates surging sales in 2015 second half.
Kandi Technologies (NASDAQ:KNDI) has been quietly progressing for several years manufacturing a variety of products, now known as its legacy business. During that time, the company was developing its Electric Vehicle "EV" technology and production capability as a first mover. In about 24 months, Kandi has transformed itself into the leading Chinese EV manufacturer it was always intended to be. Production capacity has grown from 30,000 EVs/year to 330,000 EVs/year. EV sales channels have been created. EV sales are at least doubling annually and are projected to reach 400,000/year by 2020 in the company's most recent guidance. Kandi is participating in a disruptive technology that's creating a sea change in personal transportation in China. The stock market is pricing KNDI based on earnings with no growth. The value of the company's growth is several times that of its earnings.
Kandi's Business Model
The Kandi EV business model has been evolving and there are now four major entities, Kandi, the Kandi JV, ZZY and the Kandi dealership network. The business model was conceived by Mr. Xiaoming Hu, Kandi's Chairman/CEO and Chairman of the Kandi JV, who manages the overall operation. The four entities form a supply chain: Kandi sells parts to the Kandi JV; the Kandi JV sells EVs to ZZY and the Kandi dealerships. ZZY rents or leases EVs to the public and the dealerships sell EVs to the public. The Kandi JV also makes direct sales via other sales channels, as shown in the diagram below: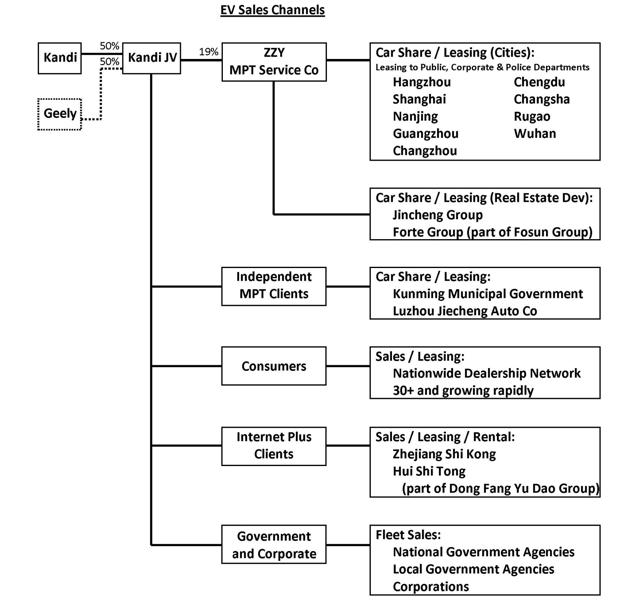 Kandi still operates some more profitable components of its legacy business, manufactures EV parts to supply the ever-growing needs of the Kandi JV, and receives 50% of the Kandi JV profits. Kandi is the brains and management behind the business model operation including hiring, innovation, R&D, government relations and local city government negotiations.
The Kandi JV manufactures and sells EVs. It's a 50/50 partnership with Geely (OTCPK:GELYY), the largest auto manufacturer in China and owner of Volvo. The JV Agreement can be found in the 2013Q1 10Q SEC filing. Both Kandi and Geely have transferred manufacturing facilities into the JV and an additional manufacturing facility is currently being commissioned in the Jiangsu province. Another new production facility is expected to be constructed in the Hainan province by the end of 2016. Production capacity including the new Jiangsu facility is 330,000 EVs/year with one shift, and it will be 430 EVs/year by the end of 2016. Sales can grow unrestricted by production capacity, and as they grow, efficiencies will increase. The Kandi JV is planning a small IPO on a Chinese stock exchange that will provide cash for expansion and multiply the JV's value on Kandi's balance sheet. Due to continuing rapid growth, Kandi's 50%-owned Kandi JV will eventually represent most of Kandi's value.
ZZY, aka Zhejiang ZuoZhongYou Electric Vehicle Service Co., is 19% owned by the Kandi JV and 81% owned by Jia Xing Jia Le Investment Partnership Enterprise. This gives Kandi a 9.5% interest. Up until March 2015, ZZY was the sole sales channel in the business model. ZZY purchases only Kandi model EVs from the Kandi JV. The cost of the EVs, after applying central and local government subsidies, is approximately 30% of full sale price. ZZY therefore has reduced capital costs and can offer competitive pricing. ZZY has formed partnerships with independent local dealers and property developers to increase market penetration. ZZY raises revenue through three programs, collectively called Micro Public Transportation:
Car-Share Program which is an extension of the city public transport system similar to existing bike-share programs. Users rent by the hour from/to multiple locations within the city and the cost is much cheaper than would be taxi. A scheme is in development whereby renters can reserve and pay via Alibaba's (NYSE:BABA) mobile Alipay with no deposit required. New EV models will be equipped with Alibaba Yun OS for Internet Plus integration.
Group Long-Term Lease Program which is available for residential communities via their community organization, or business enterprises, or government agencies such as police departments. Leases are normally for three years.
Individual Long-Term Lease Program. Leases are for 1, 2 or 3 years and cost is higher than for Group Leasing.
The Dealership Network was commenced in 2015 with the first direct sales to the public in April. Kandi has identified 88 cities and districts in which it will enroll independent dealerships. It also has access to the Geely Dealership Network which consists of about 1,000 4S stores. As of July 2015, over 30 dealerships had been enrolled.
Pictures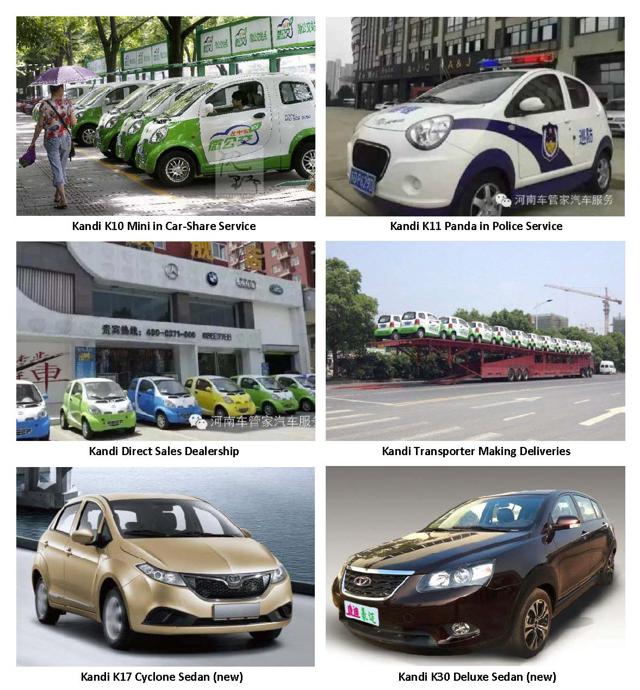 Subsidies
National government subsidies are claimed by the Kandi JV at the end of each quarter and payments were being received about 5-6 months later. However, as of August 11, a subsidy payment was received in advance of sales, which is how the subsidy law was originally written. The Kandi JV sells the EVs with the subsidy deducted, and if the government does not pay in advance, the subsidy amount goes into the Kandi JV's accounts receivable until the subsidy is paid. Local government subsidies are claimed by the buyer. Local governments have procrastinated, firstly in passing the local subsidy laws and secondly in implementing the administration of subsidy claims. Some local governments are currently paying subsidies and some are still stalling. Since local governments have made commitments to the national government, it's certain that the local subsidies will be paid. ZZY has the most EV purchases in Hangzhou in which the government is still stalling, but payment is expected by the end of this year. An additional payment for infrastructure grants is expected. In the meantime, the subsidy amounts are due to go into ZZY's accounts receivable.
The national government has issued a subsidies schedule extension, defining payments that extend through 2020. 2020 also is the national government's target for having 5 million NEVs on the roads. NEVs "New Energy Vehicles" include Hybrid EVs and Pure EVs. Since 5 million will be only 1/50 of the cars and trucks currently on the road, expect the subsidies to be extended in some form beyond 2020. Eventually subsidies will no longer be needed because the market will be huge and mass production costs will be much lower and battery technology much improved at much lower costs.
The national government has proposed a system of carbon credits to commence in 2016 which would provide an additional form of subsidy to EV manufacturers. EV manufactures will earn green credits for each EV and polluters, such as ICE vehicle manufactures, will need to buy those green credits.
Market Forces
The China central government and local governments have declared war on internal combustion engine (ICE) vehicles. The government is compelled to do this due to deadly pollution levels and to protect its economy from future astronomic increases in oil imports. It is additionally developing a strong EV...
More