Yesterday, I discussed the NZD/USD trading at critical support. Today, it sprung from that support breaking a short-term consolidation range. 
NZD/USD 1H Chart 7/26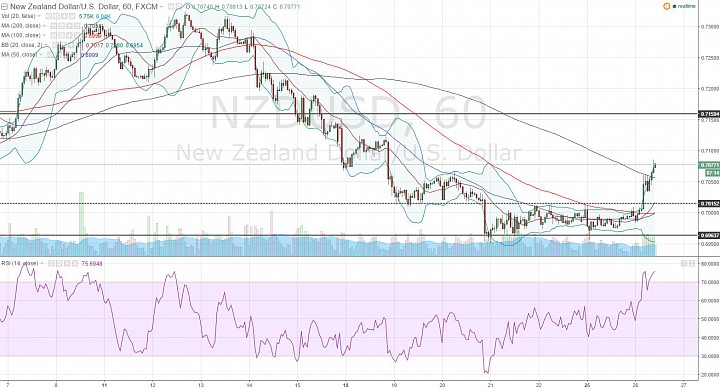 (click to enlarge)
Breakout:
- As we can see in the !H chart, the market was bearish but started to consolidate above 0.6950. 
- The resistance of this narrow consolidation was at 0.7015. 
- I actually put in 3 entry limits at 0.6980. The market came close but left the station by the 7/26 Asian-European session.
Buy on a dip:
- Looking forward now, the breakout is strong and even pushed above the previous resistance pivot of 0.7060. 
- In the previous update, I noted that we should respect 0.71 as resistance.
- Note that the RSI popped up above 70. If the new bullish momentum were to sustain, it should hold above 40. 
- I think if price comes back and approaches the 0.7015 area, while the RSI is in the 40-50 area, we should consider a buy.
- A break below 0.70 could invalidate the bullish outlook. I would give it some elbow space to 0.6985, and put a stop around 0.6975. 
Risk and Reward:
- The risk is going to be about 50-60 pips .
- The upside from 0.7020 to 0.71 is 80 pips. A target of 0.7150 would net 130 pips.
- The most aggressive target should be limited to 0.72 (180 pips), which is near a previous support area for a price top.
- The 0.72 area is also in the support/pivot area from 2015 as we can see in the daily chart below.
Bullish confirmation:
- The fact that price bounced off the 0.6960 support shows that bulls are in charge in the medium-term.
- Price is above the 200-, 100-, and 50-day simple moving averages (SMAs)
- The RSI is holding above 40 in the daily chart. 
- We basically have bullish confirmation. 
- With that in mind, the 0.7150 and 0.72 levels are very probable targets within the current mode.