Freeport-McMoRan Inc.
FCX
is a mining giant that is primarily engaged in mineral exploration and development, mining and milling of copper, gold, molybdenum and silver, as well as the smelting and refining of copper concentrates.
Freeport is taking actions to manage costs and capital spending amid a still challenging operating environment. The company also remains focused on de-leveraging its balance sheet, partly through assets sale.
Let's have a quick look at this mining behemoth's second-quarter release.
Estimate Trend & Surprise History
Estimate for Freeport for the second quarter has been going down over the past week. The company has missed the Zacks Consensus Estimate in all the trailing 4 quarters with an average negative surprise of 41.3%.
Earnings
Freeport reported adjusted earnings of 17 cents per share for the quarter, missing the Zacks Consensus Estimate of 20 cents.
Freeport-McMoran, Inc. Price and EPS Surprise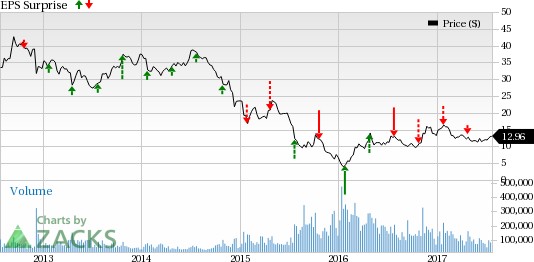 Freeport-McMoran, Inc. Price and EPS Surprise | Freeport-McMoran, Inc. Quote
Revenues
Freeport posted revenues of $3,711 million, surpassing the Zacks Consensus Estimate of $3,678 million.
Key Stats/Developments to Note
At the end of second quarter, Freeport's total debt was $15.4 billion. For 2017, the company expects operating cash flows and capital expenditures to be around $3.8 billion and $1.6 billion, respectively.
Freeport anticipates sales volumes for the year 2017 to be roughly 3.7 billion pounds of copper, 1.6 million ounces of gold and 93 million pounds of molybdenum, including 940 million pounds of copper, 375,000 ounces of gold and 22 million pounds of molybdenum in third-quarter 2017.
Freeport has no borrowings with $3.5 billion of credit available at the end of the reported quarter.
Zacks Rank
Currently, Freeport has a Zacks Rank #4 (Sell), but that could change following its earnings report which was just released.
Market Reaction
Freeport's shares were up 2% in the pre-market trading following the release. It would be interesting to see how the market reacts to the results during the trading session today.
Check back later for our full write up on Freeport's earnings report!
More Stock News: Tech Opportunity Worth $386 Billion in 2017
From driverless cars to artifical intelligence, we've seen an unsurpassed growth of high-tech products in recent months. Yesterday's science-fiction is becoming today's reality. Despite all the innovation, there is a single component no tech company can survive without. Demand for this critical device will reach $387 billion this year alone, and it's likely to grow even faster in the future.
Zacks has released a brand-new Special Report to help you take advantage of this exciting investment opportunity. Most importantly, it reveals 4 stocks with massive profit potential.
Want the latest recommendations from Zacks Investment Research? Today, you can download 7 Best Stocks for the Next 30 Days.
Click to get this free report
Freeport-McMoran, Inc. (FCX): Free Stock Analysis Report
To read this article on Zacks.com click here.