February was a great month for stocks because of:
1)   Rampant stock buybacks by corporations
2)   Performance gaming by investment funds that were in damage control after one of the worst years (only 20% of them beat the market in 2014) and worst months (CRAP) in recent history.
3)   Stocks are propped up by endless Central Bank intervention (we're now at 20 interest rate cuts and counting).
Desperate times call for desperate measures. Despite the clear manipulation generating a 6+% ramp job in stocks in a single month, the US Dollar continues to CRUSH them year to date.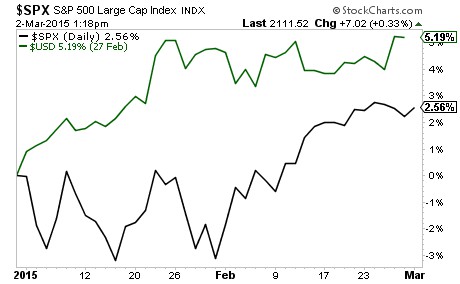 This is actually par for the course. The US Dollar actually produced the SAME return as stocks last year. You could have avoided all of the volatility of the stock market and seen the same return just sitting in cash.
And this is despite the Fed spending over $650 billion that year propping stocks up, not to mention the constant verbal interventions by Fed officials every time stocks began to collapse.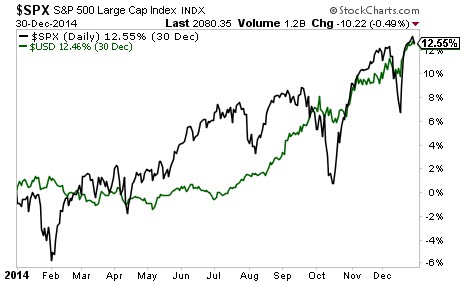 Interestingly enough, it is the US Dollar that will likely cause the stock market to crash. Stocks today are priced for economic perfection… at the very time that the US Dollar rally has imploded corporate profits and sales.
As Albert Edwards from Societe General recently noted, the recent collapse in profits is occurring at a pace usually associated with recessions.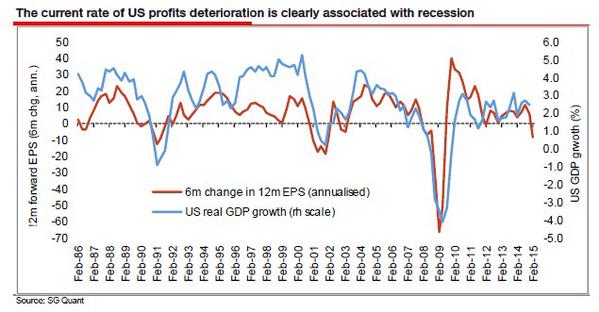 The culprit? The US Dollar, which has demolished earnings for corporates across the board. The talking heads on bubble vision claim that a strong dollar only hurts energy stocks, but the reality is that earnings per share projections are collapsing across the board (as the above chart shows).
The next crisis is coming. And the Fed won't be able to stop it. Globally the US Dollar carry trade is over $9 trillion. The Fed couldn't announce a QE equal to even one third of that without losing whatever credibility and political capital it has left.
The time to prepare is now, BEFORE the crash hits.
If you've yet to take action to prepare for the second round of the financial crisis, we offer a FREE investment report Financial Crisis "Round Two" Survival Guide that outlines easy, simple to follow strategies you can use to not only protect your portfolio from a market downturn, but actually produce profits.
You can pick up a FREE copy at:
http://www.phoenixcapitalmarketing.com/roundtwo.html
Best Regards
Graham Summers
Phoenix Capital Research