I just wanted to add a couple of things to the article by a fellow whotrade blogger: Drew Housman - An Under the Radar Energy Stock to Watch For. 

First take a look at the monthly chart: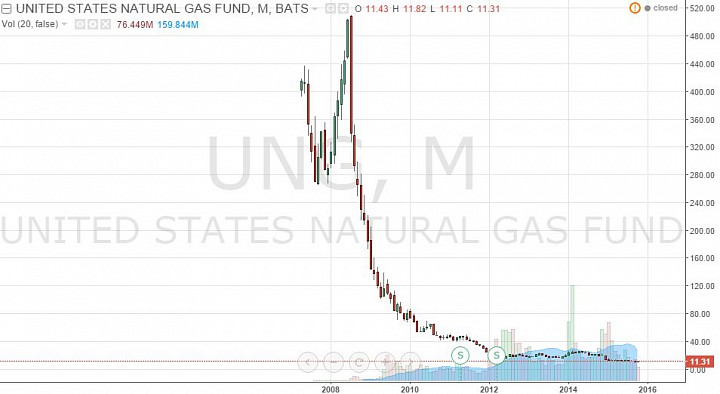 (click to enlarge)

There is the general notion that oil and gas won't stay down forever, and around $10, UNG does look like a bargain. Now, let's talk about timing if you are going to buy.

Here's a quote: "Don't catch a falling knife". When price is falling sharply, it might be prudent to stay out of the way even at critical support levels. The volatility would be too high. However, UNG has died down in volatility when looking at the monthly chart, in terms of absolute price movements.

However, percentage-wise, there is still some volatility, and as we can see in the 4H chart, that volatility is accompanied by a recent bearish breakout. So, while we can be getting ready for a medium-term, long-term hold, the short-term chart tells us to wait.
UNG 4H Chart 10/20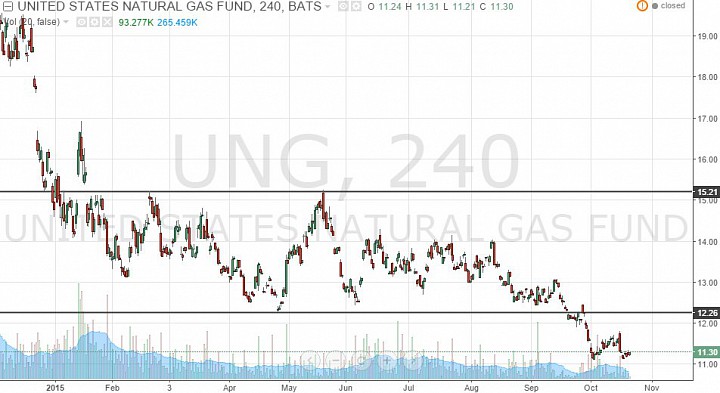 (click to enlarge)

Price action in the 4H chart is still bearish. Not only did it break below a consolidation support, we had a bearish engulfing candle earlier this week. This puts the 11.00 handle in site with downside risk towards 10.00. This might be where I want to set up camp. Around and below 10.00. 1) psychological level. 2) The consolidation range was around $3.00 wide. Project that below the 12.25 support, and we have 9.25. 

I will probably be planting some seeds there.