Huntington Ingalls Industries Inc. HII has secured a modification contract in relation to the LPD 29, the 13th variant of the San Antonio (LPD 17) class of amphibious warships. Work related to this deal is scheduled to be over by Feb 2018.
Details of the Deal
Valued at $218.1 million, the contract was awarded by the Naval Sea Systems Command, Washington, D.C. Per the terms, Huntington will procure long lead time material and advance construction activities to support LPD 29.
Majority of the work will be carried out in Pascagoula, MS, and Beloit, WI. The remaining portion will be executed in various other locations across the U.S. Huntington will utilize fiscal 2017 shipbuilding and conversion (Navy) fund to complete the work.
A Brief Note on San-Antonio Class Ships
With a length of 684 feet and width of 105 feet, the San Antonio-class ships are designed to deliver equipment and supplies ashore to the U.S. Navy, using air cushion or conventional landing craft and amphibious assault vehicles. These, in turn, are supported by helicopters or vertical takeoff and landing aircraft such as the MV-22 Osprey.
The ships aim at supporting amphibious assault, special operations, or expeditionary warfare and humanitarian missions. As of May 2017, LPDs 17–26 have been delivered to the U.S. Navy. LPD 27 has been launched and christened, with delivery expected in mid-2017. In late 2016, the company won a $1.46 billion construction contract from the U.S. Navy to build LPD 28 – the 12th variant. LPD 29 is the newest variant in this class of ships.
Per the company, this multi-mission, versatile LPD ships will replace the functions of nearly 40 ships in at least four different classes. Each ship has a capacity to accommodate up to 360 Sailors and 699 Marines with a surge capability of 800 Marines.
Our View
Huntington is the prime industrial employer in Virginia. Over 70% of the active Navy fleet consists of Huntington ships. Through its Ingalls segment, the company manufactures amphibious assault and expeditionary ships for the U.S. Navy.
In the first quarter of 2017, the Ingalls segment witnessed a 6% sales decline owing to lower volumes on its DDG and LPD programs.
Nevertheless, the Omnibus appropriations package for fiscal year 2017 boosted the major production lines at this segment, by providing full funding for the LPD 29 and long lead material for NSC 10. This indicates the enhanced demand for warships like the latest variants of the LPD class ships from the U.S. government in recent time. We believe the latest modification is an example of such increased demand, which, in turn, will lead the company in securing more such deals in coming days, thereby bolstering its profit margin.
Price Movement
Shares of Huntington Ingalls have rallied 13.8% in the last one year, underperforming the Zacks categorized Aerospace-Defense industry's gain of 25%. This could be because the earlier budget cuts have put pressure on the top line. Also, budget deficits and political uncertainty might make future defense budgets vulnerable to cutbacks. As a result, the company's performance lagged the likes of The Boeing Co.BA, General Dynamics Corp. GD and Airbus Group SE EADSY that outperformed the industry.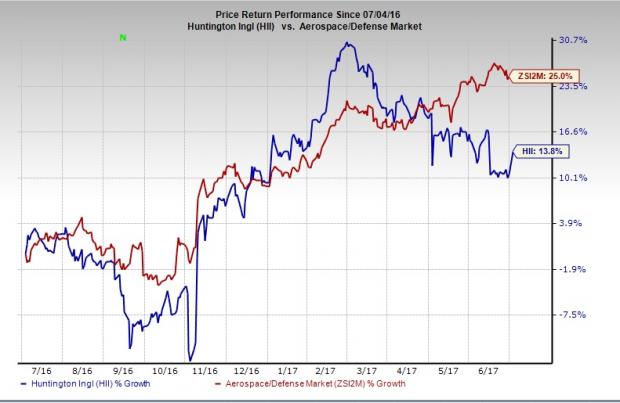 Zacks Rank
Huntington Ingalls currently carries a Zacks Rank #3 (Hold). You can see the complete list of today's Zacks #1 Rank (Strong Buy) stocks here.
5 Trades Could Profit "Big-League" from Trump Policies
If the stocks above spark your interest, wait until you look into companies primed to make substantial gains from Washington's changing course.
Today Zacks reveals 5 tickers that could benefit from new trends like streamlined drug approvals, tariffs, lower taxes, higher interest rates, and spending surges in defense and infrastructure. See these buy recommendations now >>
Want the latest recommendations from Zacks Investment Research? Today, you can download 7 Best Stocks for the Next 30 Days.
Click to get this free report
Boeing Company (The) (BA): Free Stock Analysis Report
General Dynamics Corporation (GD): Free Stock Analysis Report
Huntington Ingalls Industries, Inc. (HII): Free Stock Analysis Report
Airbus Group (EADSY): Free Stock Analysis Report
To read this article on Zacks.com click here.
Zacks Investment Research