Yesterday when we commented on the Chinese open for trading, we noted that US equity futures, up between 10-15 points at the time on hopes for even more central bank intervention (even if a September rate hike is now largely off the table as far as the market is concerned) we warned that algos still appear unaware that the most bullish catalyst - Gartman's short position - has been closed out and as such "algos are flying blind." Since then US futures have trimmed their gains by half and at this rate we may even open red, depending on whether Gartman once again flop-flipped, this time to bullish.
But while any moves in the US stock market ahead of Thursday are largely irrelevant, as only Yellen's statement in 4 days will unleash epic algo buying or short covering (yes, according to JPM the Fed statement is bullish no matter what), it is what happened in China that is concerning, because while we had expected Chinese stocks to go nowhere in particular now that index future trading volumes have plunged by 99% or perhaps rise on hopes of even more easing after the latest terrible economic data, the Shanghai Composite dropped 2.7%, but it was the retail darling Shenzhen Composite which tumbled 6.7% - its worst selloff since August 25, while China's Nasdaq, the ChiNext crashed -7.5%.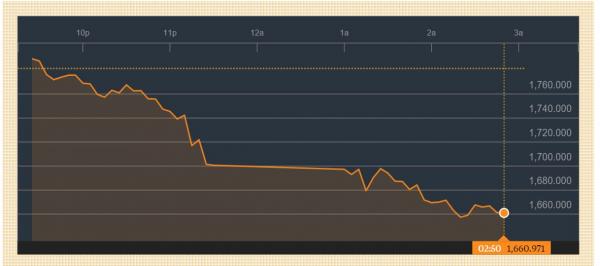 Is China startting to losing control again? Judging by the latest PBOC data, namely that China sold CNY723.8 billion ($114 billion), or the biggest monthly FX outflow on record, things behind the scenes in Shanghai are far worse than they seem. Keep a close eye on Copper - and thus Glencore CDS - for validation.
Elsewhere in Asia equity markets traded mostly lower as investors remained cautious ahead of Thursday's FOMC. The Nikkei 225 (-1.2%) was pressured by weakness in telecoms (-6.9%) after Japanese PM Abe said he seeks a reduction in cell phone rates, while ASX 200 (+0.5%) bucked the trend in the region amid gains in large banks. JGBs traded lower as the BoJ unexpectedly refrained from conducting any asset purchases under its bond purchase program. Barclays has decreased its 2015 Chinese 2016 GDP forecast from 6.6% to 6.0%, 2015 GDP forecast decreased from 6.8% to 6.6%.
In spite of the release of yet another round of weak macroeconomic data from China and well as the raft of looming risk events, stocks in Europe traded higher. The FTSE-100 index outperformed (+0.6%), bolstered by material names, which is the best performing sector in Europe after a sector wide positive broker move by JP Morgan. Elsewhere, the upside by stocks failed to weigh on fixed income, with Bunds and Gilts trading the unchanged mark, while peripheral bond yield spreads narrowed by a mere 1bps, which only highlights the fragile nature of recent gains by equities. Of note, trade may be on the light side today due to the Rosh Hashanah holiday, the Jewish New Year.
In Fx, GBP was bid across the board in early European trade, with GBP/USD just off highs and ahead of touted offers at 1.5475, while EUR/GBP has also bounced off lowest levels of the session, which coincides with the 200DMA line at 0.7326. This comes after comments over the weekend from BoE's Weale who said interest rates need to be increased "relatively soon". Of note Weale is considered to have a hawkish stance, however at the last meeting he voted to keep rates on hold, and therefore these comments could be interpreted as an indicator he may soon vote for a hike.
Elsewhere, analysts at Goldman Sachs wrote in a note that EUR and JPY are set to be pressured by further monetary easing by their respective central banks at some stage , with GS also reiterating their call for the Fed to refrain from tightening this week. Of note, the Australian PM Abbott faces a vote today as to whether he will remain head of the party, with Malcolm Turnbull challenging for party leadership.
In commodities, the release of less than impressive macroeconomic data from China failed to buoy demand for commodity prices, with the likes of bother WTI and gold trading flat heading into the North American crossover as market participants are forced to contend with a potential hawkish Fed later on in the week. At the same time, copper trended lower, with analysts at Barclays also noting that the demand hasn't been strong enough to indicate a turnaround in China. Analysts point to a large surplus of 381 kt in Q4, which should reverse recent gains.
Elsewhere, iron ore futures on DCE rose in reaction to the latest Chinese data which showed that Chinese crude steel output rose 1.7% in August from a month earlier, it fell 3.5% from a year earlier and dropped 2% the first eight months. The upside came in spite of the fact that the latest release only adds to the increasing concerns of an oversupply.
In summary: Europe's Stoxx 600 little changed as of 10:45am CET time, after dropping 2.2% in 2 sessions, with the basic resources and media sectors outperforming.  ajor miners rally; JPMorgan upgrades sector on limited downside. Stoxx 600 Follows EuroStoxx 50, DAX, S&P with death cross signal.  China fixed-asset investment tumbles to lowest since 2000; industrial production trailed analyst estimates
Market Wrap
Shanghai Composite -2.7%, Nikkei 225 -1.6%
S&P 500 futures little changed
Europe's Stoxx 600 little changed
FTSE 100 up 0.4%, CAC 40 up 0.1%, DAX little changed, IBEX 35 up 0.2%, FTSE MIB down 0.6%, Euro Stoxx 50 up 0.1%
Brent Futures down 1.4% at $47.5/bbl
LME 3m Copper down 0.6% at $5340/MT
Euro spot up 0.03% at 1.1341
V2X down 2.6% at 30.8
Overnight Bulletin Summary from Ransquawk and Bloomberg
In spite of the release of yet another round of weak macroeconomic data from China and well as the raft of looming risk events, stocks in Europe traded higher
GBP was bid across the board in early European trade after comments over the weekend from BoE's Weale who said interest rates need to be increased "relatively soon"
Barclays has decreased its 2015 Chinese 2016 GDP forecast from 6.6% to 6.0%, 2015 GDP forecast decreased from 6.8% to 6.6%
Treasuries gain led by long end, curve flattens as traders position for Fed decision Thursday, decision and updated SEP at 2pm followed by Yellen presser.
China's industrial output rose 6.1% in August, less than expected; fixed-asset investment increased 10.9%, also less than forecast
EU ministers will try to bridge a divide over the surging refugee crisis a day after Germany reinstated border controls, curbing the freedom of movement across the continent
Draghi's promise that the ECB is willing to step up its stimulus if needed is resonating with economists, who see the euro-area recovery as too shallow to be sustained
Jeremy Corbyn, the U.K. Labour Party's most socialist leader in at least three decades, is facing his first challenge in uniting the party following a victory that sparked resignations by a string of Labour's most senior figures
Sovereign 10Y bond yields mostly lower. Asian stocks lower, European stocks and U.S. equity-index futures rise. Crude oil, gold and copper lower
US Event Calendar
No major reports scheduled
Central Banks
9:30pm: Reserve Bank of Australia releases meeting minutes
11:00pm: Bank of Japan policy statement, Kuroda news conference
DB's Jim Reid completes the overnight event wrap
Well it's the week we've all been waiting for. Will Janet Yellen start taking away the epidural from financial We've been convinced the Fed won't raise rates but a hawkish hold which is most likely could easily leave October or December on the table so we could still be wrong on this. From here until year-end I think more depends on global risk and China than on US economic data for the Fed's decision. Had China not caused such global grief over the last few weeks I suspect they would have hiked this week whether it would have been the right decision or not. So the Fed's desire to hike has been stronger than we thought it would be, they just don't have the global backdrop to be able to do it now.
Market pricing for a hike on Thursday has stayed relatively stable for the last couple of weeks and we're at 28% as we go to print this morning which is where we closed Friday evening after some slightly softish US data. The difference between market pricing and the views of economists has been noted on the wires a few times and it's interesting to see that Bloomberg is showing that 50% of economists surveyed (96 of them) are forecasting for a 25bps hike, although it's worth warning that some of the estimates were made a couple weeks ago. In any case, with markets both fragile and volatile at the moment, a decision by the Fed to go against the market could be a dangerous game to play while a lot will rest on Yellen's post meeting statement should they stay put for now.
With regards to China and the data out over the weekend, while some of the headline numbers disappointed, our colleagues in China noted that most activity indicators have stabilised. August retail sales edged up three-tenths last month to 10.8% yoy (vs. 10.6% expected). Industrial production was up a tenth to 6.1% yoy, although less than the 6.5% expected while fixed asset investment growth disappointed, falling three-tenths to 10.9% yoy (vs. 11.2% expected) and the lowest since 2000. DB's Zhiwei Zhang noted however that investment amounts for projects under construction and newly started projects have both picked up notably and in addition, real growth of retail sales stabilised in August. He also warns that the August data indicators may have suffered a one-off negative impact from the preparation for the September military parade. Meanwhile, leading indicators were supportive with property sales momentum continuing (7.2% yoy from 6.1% in July) and total funds available for investment increasing seven-tenths to 7.6% (3mma yoy). Zhiwei believes that the stabilisation of economic activities was driven to a large extent by fiscal policy easing. He continues to expect growth to rebound in Q4 to 7.2% from 7.0% in Q3 and does not expect the government to announce another grand fiscal stimulus package based on the latest leading indicators, although he does expect one more RRR cut.
In addition, much of the headlines out of China this weekend were focused on the report by Xinhau News Agency on the unveiling of reforms for SOE's. There's a lack of details so far, but the reports notes that its set to include partial privatisation and various managerial changes to help drive a shakeup of the sector. 'Decisive results' are expected by 2020 according to the report with the aim of achieving 'higher economic vitality, higher control and greater influence'.
Despite some signs of stabilisation in the leading indicators perhaps, markets don't necessarily agree and have kicked off the week on a down note in Asia with losses being led out of China. At the midday break the Shanghai Comp is down -3.20%, while there are decent losses for the CSI 300 (-3.51%) and Shenzhen (-4.53%) too. Elsewhere the Hang Seng (-0.10%), Nikkei (-1.48%) and Kospi (-0.84%) have all been led lower by the move having initially opened on a positive note. Despite the losses in equity markets, Asia credit is actually trading a basis point tighter, while S&P 500 futures are more or less unchanged.
Looking back at another cautious day for markets on Friday. Having traded as much as -0.7% down intraday shortly following some disappointing data, the S&P 500 rallied back in the last hour of trading to close up +0.45% and in turn cap the best five-day return (+2.07%) in eight weeks. This came after a weak session in Europe with the Stoxx 600 tumbling -1.01% following another choppy session in Asia. The moves in the Vix have garnered some attention of late and with a 4.8% fall on Friday, the index is now down 18% in September so far following a 135% surge last month. It was a quieter day in the credit space on Friday, with US indices little changed but the story of the week was the 34 issuers pricing over $54bn in the holiday-shortened week.
The disappointment in the US dataflow on Friday was the preliminary September University of Michigan consumer sentiment reading which fell 6.2pts to 85.7 (vs. 91.1 expected), the lowest level in a year and the largest one-month decline since the end of 2012. In the details the current conditions index fell to an 11-month low of 100.3 from 105.1 last month, while the 6-month expectations index fell 7pts to 76.4 and the weakest in a year. August's PPI reading showed a better than expected print at both the headline (0.0% mom vs. -0.1% expected) and core (+0.3% mom vs. +0.1% expected). That helped the headline annualised rate stay unchanged at -0.8% yoy while the core edged up three-tenths to +0.9% yoy. The Dollar had a softer day Friday, the dollar index finishing down 0.27% to cap a 1.1% decline over the week while 10y Treasury yields fell for the first time in a week, closing down 3.4bps at 2.189% and 2y yields fell 2.8bps to 0.707%.
Unlike in the US, dataflow in Europe and specifically in Germany didn't offer any surprises with the final August CPI reading of 0.0% unrevised, keeping the annualised rate steady at +0.2% yoy. Yields in the region nudged lower, with 10y Bunds down 4.3bps to 0.650% and the lowest in nearly 3 weeks. Over the weekend in Europe much of the attention has been on geopolitical issues related to the refugee crisis with Germany announcing that they have temporarily reinstated border control with Austria in response to the huge surge in migrant numbers. This follows an in-depth look by DB's Mark Wall and his team on Friday in the Focus Europe publication looking at the impact of migration. Mark noted that Germany alone expects 800k asylum seeker applicants this year and that immigration is now the EU's most important political problem according to opinion polls. Mark points out that the economic impact on the EU and Germany will be negligible at least in 2015. The medium-term impact on the demand side could be more pronounced however. Germany especially seems to be predestined to benefit substantially, given Germany's high demand for labour at present and its ageing workforce which also will markedly shrink without immigration. However, noteworthy supply-side effects will only emerge to the extent that Germany is able to integrate the newcomers into the labour market which is a challenging task and furthermore asylum seekers will face administrative obstacles in efforts to gain labour market access.
Turning to this week's calendar now. It's a fairly quiet start to the week today with just Euro area industrial production and Italian CPI, with no data due out in the US this afternoon. It's busier on Tuesday however with French and UK CPI (along with RPI and PPI in the latter), followed closely by the Euro area employment and trade data along with the German ZEW survey reading for September. That's before a bumper data session in the US on Tuesday with retail sales, empire manufacturing, industrial and manufacturing production, capacity utilization and business inventories all due. In Europe on Wednesday all eyes will be on the Euro area CPI print, while UK employment indicators are also expected. In the US the focus will be on the August CPI print in what's set to be the last important data print prior to the FOMC meeting. Average weekly earnings data and the NAHB housing market index are also due Wednesday. We start in Japan on Thursday with trade data before we get UK retail sales closer to home. Prior to the FOMC decision in the early evening and subsequent Yellen press conference we'll get US housing starts, building permits, initial jobless claims and Philadelphia Fed business outlook readings ahead of the main event. Ending the week on Friday in Asia will be property prices data out of China. In Europe we'll get French wage data before the conference board leading indicators out of the US in the afternoon.