As reported previously, the star attraction in the capital "markets" over the past two days has undoubtedly been the Hong Kong stock market, whose Hang Seng index surged as much as 10% over the past two days as a result of Chinese investors swarming into the "untapped" market and blowing yet another asset bubble.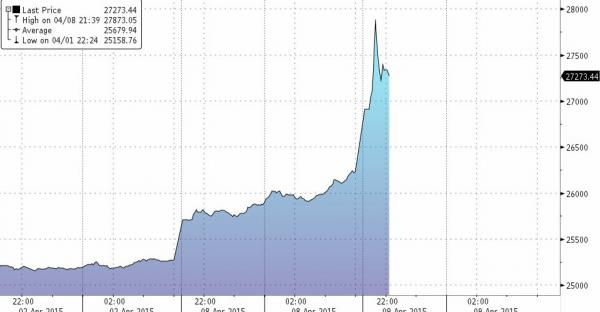 So, as everyone settles down in anticipation of another session of parabolic Hong Kong euphoria driven by desperate housewife traders, or a manic plunge straight down, none other than the CEO of the Hong Kong Exchange, Charles Li, found some time to pen a blog post to give "a little advice to investors", providing vivid aphorisms "Investment is like swimming: if you do not enter the water, you will never learn to swim" and to caution speculators that the opportunity is "not to quickly make a  fortune, but ... to provide long-term wealth preservation and appreciation" and that there is also such a thing as risk as everyone scrambles to chase the latest bubble breakout. His blog post's punchline: "Do not worry!  Do not panic!" We doubt anyone will panic, at least not until the selling begins.

His entire post, google translated from Chinese, is below.
A little advice to investors
This is a few days after Easter, the Hong Kong stock market sentiment particularly active, the Hang Seng Index rose continuously, the total market capitalization, trading volume and turnover of Shanghai and Hong Kong through both record highs. When the market cheered the piece, I was asked the most questions investors are:
1. Hong Kong stocks to buy now time?
2. The Hong Kong and Shanghai through full amount can not buy into the old how to do?
3. Will the Hong Kong stock market trading volume magnified more volatility?
I do not have a crystal ball can predict the future direction of the market, but as one of many bridges were Hong Kong and Shanghai through the bridge, I want to give everyone a little investment advice.
Do not worry!
Shanghai and Hong Kong through the opening of the bridge is a long-term, it is for the next ten or twenty years built, there is no "after this village do not have this shop" issue. You can also be based on their actual situation and needs of arrangements ready before starting your journey from leisurely to invest. Do not have to hurry, not to join in the fun. You can always find valuable stock, but anxious often inviting risk. You know, as in the holiday get together, like travel, get together and can easily lead to congestion or bridge stampede, but also very personal experiences influence.
Do not panic!
Shanghai and Hong Kong through the north and south have a total degree of two-way daily limit, its main purpose is to ensure the smooth operation of the early start. Hong Kong stocks through these two days in advance the amount of daily afternoon run, so many investors due to inability to approach and confusion, there are many voices called for an early expansion.
At this point, I would ask my friends do not panic, be patient, the regulatory authorities have been closely watching the development of the market, it will at the appropriate time to consider expansion. The reason I have confidence in this regard, based on the following two points:
First, although the Shanghai and Hong Kong through popular these days, but the total amount of funds through the Shanghai and Hong Kong through and out of the mainland is still very small. So far only the total degree of Hong Kong stocks through the use of 47.9 billion yuan (not including Hong Kong shares through trading on April 9 in), or 19%. Shanghai shares of the total through the use of only 1,157 million yuan, or about 39%. Mainland A-share market since late last year, the average daily turnover has remained at more than one trillion. Relatively speaking, the size of funds pass through Hong Kong and Shanghai and out of it is very limited.
Second, Hong Kong and Shanghai through the clearing and settlement throughout the closure, regulators can fully monitor risks. All transactions are within the exchanges, clearing the company's systems, have a clear record. Under such a system arrangement, funds are not in great disorderly capital A shares or Hong Kong stocks traded in the stock sold and then backtrack along the main market.
So closed and transparent system designed to protect the next Hong Kong and Shanghai can be closely monitored through both regulatory agencies and prudent risk control of the premise of carrying a huge cross-border transactions.
Countless opportunities, risks often!
Shanghai and Hong Kong through open interoperability between the Mainland and Hong Kong market, but also to respect the value of the investment philosophy of international institutional investors and retail investors dominated the mainland population began "historic crossroads." This historic intersection will emit a lot of reminders "chemical effect", and create a new era of China's capital market development.
In this new era, endless opportunities, but often at risk. Hong Kong investors, new investors in the mainland market has brought unprecedented vigor and trading opportunities. At the same time, differences between the two sides in the investment ideas and risk awareness for Hong Kong investors (particularly retail), bringing new challenges and risks. How to keep the excitement of the market conditions calm and cautious, every investor must consider.
For many mainland retail investors, the Hong Kong and Shanghai through the first step of their investments overseas, naturally requires caution. Investment is like swimming as the water if you do not, you will never learn to swim, but the water is often the first time beginners are bound to choke a few saliva. Therefore, investors must do their homework, careful decision-making, should follow suit.
As market operators and regulators, we know that the rising volume means more responsibility, we will continue efforts to ensure a stable and reliable system, we will always monitor the market closely and take appropriate risks when necessary management measures to maintain the orderly functioning of markets.
Shanghai and Hong Kong through is designed to provide an opportunity for everyone is not made quick fortune, but to help the early realization of China's national wealth diversified international configuration, we provide long-term wealth preservation and appreciation of channels.
I wish every investor mindful of the risks of investment success!