Major pharma companies like Pfizer (PFE - Free Report) , Teva Pharmaceutical Industries Limited (TEVA - Free Report) , Sanofi, Allergan and Novo Nordisk reported third quarter results last week.
Recap of the Week's Most Important Stories
Why Did Teva's Shares Plunge after Q3 Earnings? Teva's shares plunged 19.9% following the release of third quarter results. While the company missed on earnings, revenues were in-line with expectations. However, the key reason for the stock's poor performance was the lowered outlook with the company facing huge revenue erosion with its key branded drug, Copaxone, facing generic competition for the 40 mg formulation as well. This development alone is expected to hit 2017 earnings by 30 cents per share. Meanwhile, the Generics business continues to face headwinds with price erosion remaining a major challenge.
Key Takeaways from Pfizer's Q3 Conference Call: Pfizer's third quarter earnings surpassed expectations and resulted in the company raising its earnings outlook for the year. The company said that key brands including Ibrance and Eliquis globally and Xtandi, Lyrica, Xeljanz and Chantix in the United States continue to perform well.
However, the company is facing supply shortages for products from the legacy Hospira portfolio mainly due to capacity constraints and technical issues. At the time of acquiring Hospira (completed in September 2015), Pfizer had expected that it would take up to a couple of years to integrate the manufacturing plants and resolve the majority of the supply chain issues. On the third quarter call, the company said that it expects to make substantial progress in 2018 toward cutting down the sterile injectable shortages.
Regarding Inflectra, Pfizer's biosimilar version of J&J's Remicade, the company said that penetration in the United States continues to be slower than expected due to the exclusionary contracting of Remicade by J&J. We remind investors that Pfizer has filed a lawsuit in the U.S. District Court against J&J related to providing patient and physician access to lower cost biosimilars.
Disclosure: Zacks.com contains statements and statistics that have been obtained from sources believed to be reliable but are not guaranteed as to accuracy or completeness. References to any ...
Pfizer also provided an insight on the expected impact of loss of exclusivities (LOEs) in the next few years. While LOEs are expected to affect revenues by about $2 billion in each of the next three years, this will go down to approximately $1 billion in 2021 and will not be more than $500 million from 2022 through 2025.
As far as near term pipeline and regulatory updates are concerned, Pfizer expects a decision from the FDA for its type II diabetes drug, ertugliflozin, in December. Meanwhile, top-line results on PARP inhibitor, talazoparib, from the phase III EMBRACA study will read out by year end. The study is evaluating talazoparib versus standard-of-care chemotherapy in patients with germline BRCA-positive metastatic breast cancer.
Data on PD-L1 inhibitor Bavencio plus Pfizer's 4-1BB agent in patients who have not been previously treated with an immune checkpoint inhibitor is also due later this year. Pfizer is also looking to submit an application with the FDA for lorlatinib, its next-generation ALK inhibitor for the treatment of ALK-positive metastatic non-small-cell lung cancer, by year end.
Pfizer has gained 9.4% year to date, compared to the 15.4% rally of the industry it belongs to.
Novartis Seeks Label Expansion for Kymriah: Novartis (NVS - Free Report) is looking to expand the label of Kymriah, the first CAR-T therapy to gain FDA approval. The company is seeking FDA approval for the use of Kymriah for the treatment of adult patients with relapsed or refractory (r/r) diffuse large B-cell lymphoma (DLBCL) who are ineligible for autologous stem cell transplant ("ASCT"). Novartis has Breakthrough Therapy designation for r/r DLBCL. DLBCL is the most common form of non-Hodgkin lymphoma ("NHL"). r/r DLBCL is a highly aggressive and difficult-to-treat non-Hodgkin lymphoma that is fatal in almost 40% of patients due to relapsed or refractory disease. Kymriah is currently approved for patients up to 25 years of age with B-cell precursor acute lymphoblastic leukemia ("ALL") that is refractory or has relapsed at least twice. Approval for the r/r DLBCL indication would expand the patient population for Kymriah though Gilead already has a presence in this area with its CAR-T therapy Yescarta being approved for the treatment of adult patients with certain types of large B-cell lymphoma who have not responded to or who have relapsed after at least two other kinds of treatment.
Disclosure: Zacks.com contains statements and statistics that have been obtained from sources believed to be reliable but are not guaranteed as to accuracy or completeness. References to any ...
Novartis also announced its intention to acquire Advanced Accelerator Applications to strengthen its presence in oncology.
FDA Approves AstraZeneca's Blood Cancer Drug: AstraZeneca (AZN - Free Report) gained accelerated FDA approval for its BTK inhibitor, Calquence (acalabrutinib), for adult patients with previously-treated mantle cell lymphoma, an aggressive type of blood cancer that is usually diagnosed at an advanced stage and associated with a high relapse rate. We note that AbbVie's Imbruvica is also approved for this patient population.
AstraZeneca also expanded its clinical trial collaboration with Incyte – the companies will evaluate the efficacy and safety of Incyte's investigational selective IDO1 enzyme inhibitor, epacadostat, in combination with AstraZeneca's PD-L1 inhibitor, Imfinzi, compared to Imfinzi alone in early lung cancer.
Meanwhile, AstraZeneca said that its IL-13 human monoclonal antibody, tralokinumab, failed to achieve the primary endpoint in a late-stage study for severe, uncontrolled asthma. Top-line results from another late-stage study showed that tralokinumab failed to achieve a statistically-significant reduction in oral corticosteroid ("OCS") use, the primary endpoint, when added to the standard of care, in patients dependent on OCS.
FDA Nod for J&J Drug Label Expansion: The FDA also granted approval to a new dosage (10 mg once-daily) of Johnson & Johnson's Xarelto. The 10 mg formulation is approved for use in reducing the continued risk for recurrent venous thromboembolism ("VTE") after completion of at least six months of initial anticoagulation therapy. Johnson & Johnson is a Zacks Rank #2 (Buy) stock.
Valeant Gets FDA Nod for Vyzulta and PDUFA Date for IDP-118: Valeant Pharmaceuticals International, Inc.'s (VRX - Free Report) Vyzulta (latanoprostene bunod ophthalmic solution, 0.024%) also gained FDA approval for the reduction of intraocular pressure ("IOP") in patients with open-angle glaucoma or ocular hypertension. The company also announced that the FDA has accepted its regulatory application for IDP-118 (halobetasol propionate and tazarotene) lotion, an investigational topical treatment for plaque psoriasis. A response from the FDA regarding the approval status of the treatment is expected by Jun 18, 2018.
Performance
Large Cap Pharmaceuticals Industry 5YR % Return
The NYSE ARCA Pharmaceutical Index declined marginally this week. Among major stocks, Bristol-Myers Squibb (BMY - Free Report) was up 3.8% while Merck (MRK - Free Report) was down 3.7%. Over the last six months, J&J was up 15.1% while Merck declined 10.6%.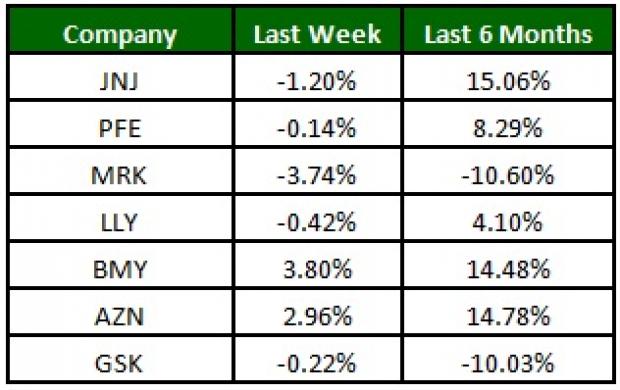 Disclosure: Zacks.com contains statements and statistics that have been obtained from sources believed to be reliable but are not guaranteed as to accuracy or completeness. References to any ...
More