The USD/CHF has been bearish so far in October, but when we look at the daily chart, we can see that this dip is within the context of a sideways market. 

USD/CHF Daily Chart 10/14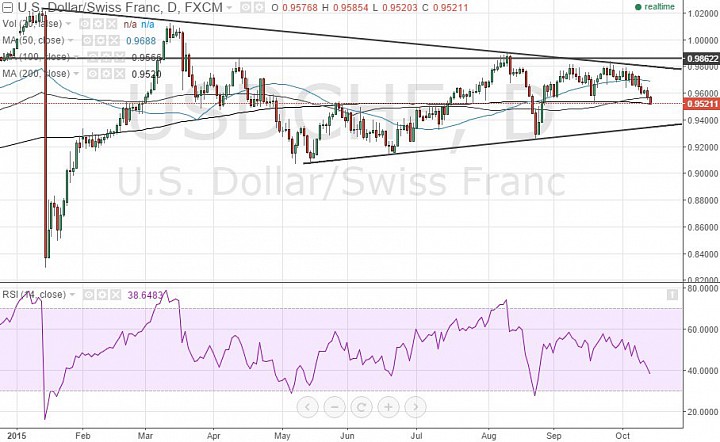 (click to enlarge)

If you look at the RSI, you see that it tagged 30 and is now holding below 60. This is usually a bearish signal. I think this carries some weight in the short term, but does not indicate a bearish market outside of the triangle consolidation we are seeing in the daily chart. 

In fact, the bearish outlook should be limited to the 0.9350-0.94 area. A break below 0.9250 would be needed to extend the bearish outlook to the medium-term. 

On the other hand, the bullish outlook is valid too from 0.9350-0.94 area as an entry. Just remember that USD/CHF has really been neutral  since 2011. Before that, there was a secular bear market. Yes bulls should be patient to get in on key support, but should also limit their bullish outlook. For example, 0.97-0.9750 might be resistance for a swing that develops from the 0.9350-0.94 support area.