Today, BoE governor, Mark Carney and his MPC colleagues spoke in front of the UK Parliament's Treasury Committee, giving the bank's Quarterly Inflation Report. We can say that the report was hawkish.
- Jobs and Inflation are inline with goals.
- Wage growth has stunted, but should pick up in mid-2015.
- Carney said that the recovery has "exceeded expectations" and has "momentum.
Interest rate speculators have been anticipating a rate hike in early 2015, and today's report seems to support this timetable. However, if Scotland gains independence after the Sept. 18 referendum vote, there might be too much uncertainty for the BoE to raise rates early 2015. 
Nonetheless, traders bid up the GBP during the Inflation Report. The 4H chart shows market that was consolidating ahead of the report, and looks like it might be forming a mini price bottom during the report.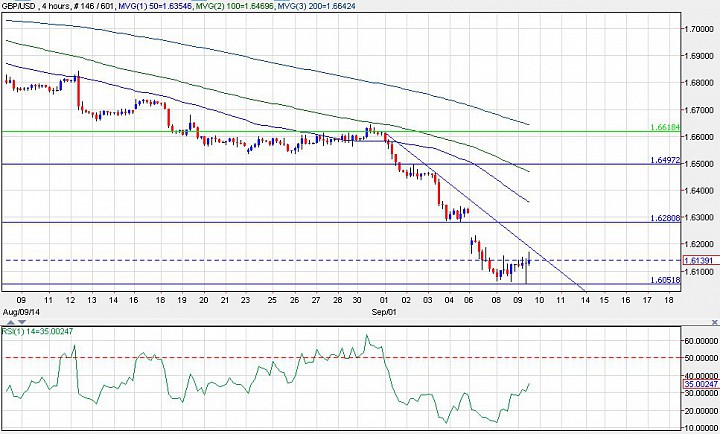 (GBP/USD 4H Chart 9/10)
Consider the fact that there has not been any meaningful consolidation since the downtrend started from 1.7191 (2014-high). Then we should expect sellers around 1.6280-1.63 if there is a bullish correction following today's BoE inflation report. There is still downside risk toward not only the key 1.60 handle, also the Nov. 2013 lows around 1.5855.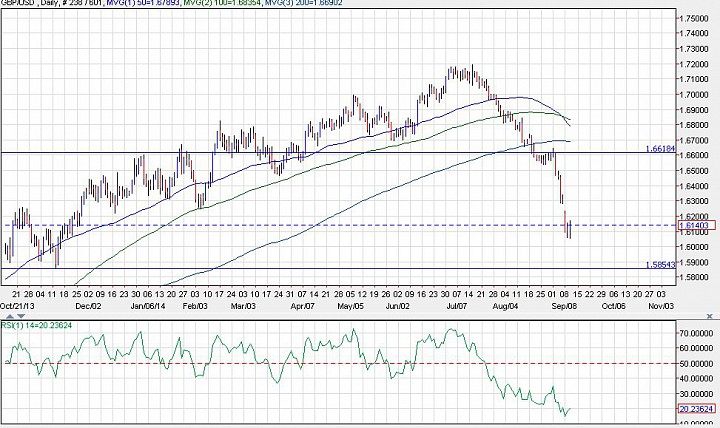 (GBP/USD Daily Chart 9/10)