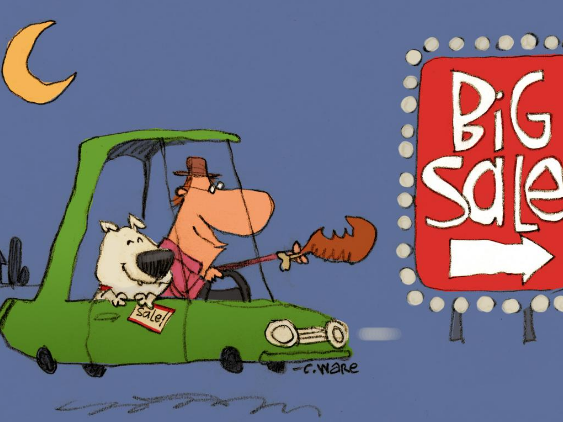 Interested in taking advantage of the ongoing bull market but concerned over putting money into richly valued companies? The list below provides some ideas with a brief overview of recent developments surrounding each business.
Each of these 17 stocks has fallen by at least 10% over the past 12 weeks despite the market chugging along at or near all-time highs.
Amgen (AMGN) – Amgen has had a tough past few months as a consequence of disappointing trial data (e.g., Repatha) and earnings that underwhelmed investor expectations. The Trump administration also cut the budget on the National Institutes of Health by 20% to trim growth in government spending. Despite its recent swoon, AMGN is still up over 5% YTD.
Anadarko (APC) – Anadarko is down 27% YTD. Some of the loss can be attributed to its close ties to crude prices as an upstream oil producer. APC has also been hampered by a fatal gas well explosion in the Denver-Julesburg Basin in early May, which has led to regulatory investigation over its operations. DJ Basin peers were subsequently downgraded almost uniformly by Wells Fargo.
Biogen (BIIB) – Biogen represents another large-cap biotech stock that has come under pressure recently. Like Amgen, Biogen was hit by the funding cut to the National Institutes of Health and slipped on political tough talk regarding drug pricing. The company was also hit by downgrades by Morgan Stanley and Leerink Swann.
Biogen nonetheless has potential in its pipeline via aducanumab (an Alzheimer's drug) that gives the company upside as a potential catalyst ~3 years down the road.
Ford (F) – Ford carries a 5%-6% dividend yield, but the stock is down close to 40% over the past three years. The market has concern that the company has failed to sufficiently innovate over the years, leading to the ouster of former CEO Mark Fields.
The perception is that Ford could lose some market share over time to Tesla and ride-sharing services, which have decreased the need of owning a vehicle. Moreover, auto debt defaults are increasing and US SAAR is at peak-like levels based on the previous few cycles. Investments into electric vehicle and autonomous car technology will be expensive, and margins are already very thin as a capital-intensive company. A surfeit of used car supply is also coming onto the market as many vehicles come off lease.
Investors believe the auto industry is shifting and are skeptical Ford will be able to properly allocate capital and come out ahead over time.
Fox (FOX)(FOXA) – Fox has been mired by scandals over the early part of 2017 that led to a shake-up in management and ultimate firing of star anchor Bill O'Reilly. Lawsuits have piled onto the company, which have dented future perceptions of the company's earnings.
General Motors (GM) – GM is also in the red for the year. The troubles facing Ford are similar to those for GM. Since GM emerged from bankruptcy the two companies have shared a 72% correlation, with GM returning just over 1% per year, while Ford has returned -3% per year, compared to over 11% annualized for the S&P 500.
Goldman Sachs (GS) – For a period after the November US elections, Goldman Sachs had been on a tear and had almost single-handedly been driving the Dow Jones Industrial Average for a short period. Since its early March highs, it has retraced over 10%.
The sell-off has been a product of decreased odds of a tax cut in time for 2017, deregulation and elimination of the Volcker Rule, and higher interest rates. Developed economies are also only growing at about a 2% rate and the M&A boom from 2015 to the present is likely to slow in the years ahead.
Haliburton (HAL) – Haliburton has suffered from softness in the oil market and lagged its peers which have benefitted to some extent by the rebound in drilling activity. Management has asserted its relative lack of activity and revenue declines have been a consequence of passing up unprofitable contracts.
Honda Motor Company (HMC) – Declining market share has been an ongoing issue for Honda in a crowded auto space. The standard headwinds facing auto manufacturers also very much apply to the company.
Hewlett Packard (HPE) – HPE dropped 23% in early April as it cut its 2017 guidance. Full-year EPS is considered around the $1.45-$1.55 range after coming into the year expecting $1.90-$2.00.
Kinder Morgan (KMI) – KMI recently dropped over 4% in one day following news that the completion of its Canadian Trans Mountain pipeline expansion from Alberta to the Pacific Coast was under threat after political jeopardization of the project from the British Columbian government. The cost estimates had already run over what investors had expected.
The company is in the process of paying off its high debt load, though hopes of a dividend hike and share buybacks will be contingent on how the crude market fares and are unlikely before 2018.
Petrobras (PBR) – Petrobras, as the national oil company of Brazil (64% central government ownership), sold off 17% after the Brazilian corruption probe emerged. Minus that, the company has been up for the year.
PBR also sold off 3% after a Brazilian court ordered the company to supply natural gas to Electrobras (EBR) despite the utility owing Petrobras $3 billion for previous business dealings.
PBR is a story of a highly indebted company looking to produce free cash flow in order to deleverage its way back into form.
Schlumberger (SLB) – SLB has been in revenue and earnings for decline for each of the past three years due to its dependence on oil prices (+0.58 correlation), though less so than some E&P peers. FY2017 is likely to be modestly better than 2016.
Last quarter saw a revenue miss and the company underperformed its international growth expectations, which was largely to blame for its 9%-10% peak-to-trough fall in April.
Simon Property Group (SPG) – SPG is the largest REIT on the market and provides a 4.5% dividend. The company has nonetheless lost over 30% of its value since interest rate hike expectations began heating up in August 2016.
SPG has also taken a hit over a continuous fallout in brick-and-mortar retail given its concentration in commercial real estate. The company tumbled after Macy's weak earnings produced a collective sell off in almost everything tied to brick-and-mortar retail. In a bear market, SPG is likely to perform worse than broader market indices.
Teva (TEVA) – The generics market as a whole has sold off this year due to pricing pressures, stiff competition, litigation risk, and ongoing government investigations regarding various drug-pricing practices throughout the industry. Add to that Teva's over-leveraging and continuous equity issuances to plug the funding gap, and you have a company that's been persistently dragged down since August 2015.
The company is currently trading at lows not seen since May 2005.
Vale (VALE) – Vale came up on its recent peak in February 2017 and has been in decline since. Vale fell 11% upon word of the Brazilian political scandal given its status as one of the largest mining and logistics companies in the country. Iron ore prices have also challenged the company's valuation.
In more positive news, Vale is likely to receive up to $1.2 billion from BSGR, the mining company of Israeli businessman Beny Steinmetz, after Steinmetz/BSGR representatives failed to appear at an arbitration hearing. The news boosted the stock 6%.
Wells Fargo (WFC) – Wells Fargo's issues stem from the same issues facing all large US banks. Despite warmly greeting President Trump's election, the odds that his pro-business agenda would go through peaked in early March and have been decreasing since.
Interest rates may underperform what's currently built into the curve and Dodd-Frank relief may not play out to the market's initial expectations. Despite a Republican-controlled Congress, Presidency, and (less significantly) Supreme Court, Democrats have retained a bigger voice in Washington than anticipated.
--
Disclosure: Long PBR