#5 ULTA - Salon, Cosmetics & Fragrance, Inc.
PROFILE: ULTA Salon, Cosmetics & Fragrance, Inc. operates specialty retail stores in the United States. Its stores offer an assortment of branded and private label beauty products.
UPDATE: Another one of our stocks which is holding up as the broader market struggles.
We recently lowered our 1st SUPPORT to the 200 DMA, which is currently at $147.71. A close below there and this stock will be removed from coverage in this series of reports.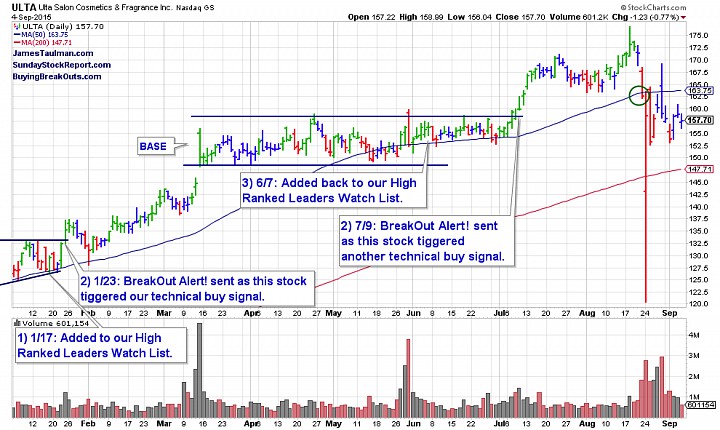 SEE THE COMPLETE REPORT HERE
(available to everyone)
http://jamestaulman.com/top-5-strongest-stocks-in-this-market/
________________________________________________
James F. Taulman – For more than 8 years James had served as Editor-in-Chief an independently licensed website that offered stock reports and services based on the CAN SLIM® investment system.
He has developed a knack for being able to quickly and accurately analyze high-ranked stocks based on this winning investment strategy. Over the years, Mr. Taulman has enjoyed assisting individuals from professional money managers to private investors with their needs in relation to implementing this investment approach on a daily basis in the current marketplace.
Each Sunday you could hear him deliver his weekly market report as part of the "Your Money Matters" radio program on ABC and CBS radio networks.