Church & Dwight Co., Inc. CHD has been showcasing a sturdy performance recently backed by its robust brand portfolio. The company's portfolio is strengthened by acquisitions and continued innovation. Its shares outperformed the Zacks categorized Consumer Staples sector, over the past six months. Church & Dwight's shares jumped 15.9% in the said time frame, compared with the sector's growth of 8.3%.
Innovation Aiding to Build a Strong Portfolio
Church & Dwight has been successfully improving its brand position and market share in the consumer categories by putting muscle behind innovation. Backed by sustained efforts, the company has 10 power brands in its baking soda category and is one of the leading producers in the U.S. Such efforts have also been prominent across other categories of the company, aiding it to launch new products during 2017, such as ARM & HAMMER CLUMP & SEAL SLIDE cat litter and ARM & HAMMER unit dose 3-in-1 POWER PAKS laundry detergent. The company also has plans to further expand offerings and distribution of the BATISTE brand.
Portfolio Expansion through Acquisitions
The company, which initially started with only one brand "ARM & HAMMER", has been successful at acquiring 12 successful brands with high margins over the past few years. In the acquisition front, the company has been particularly focusing upon the development of its animal productivity business. This is evident from its recent acquisition of Agro BioSciences, Inc., an innovator and leader in developing custom probiotic products for poultry, cattle and swine. Similarly, the acquisitions of VIVISCAL business and also the ANUSOL and RECTINOL brands are expected to boost the company's business.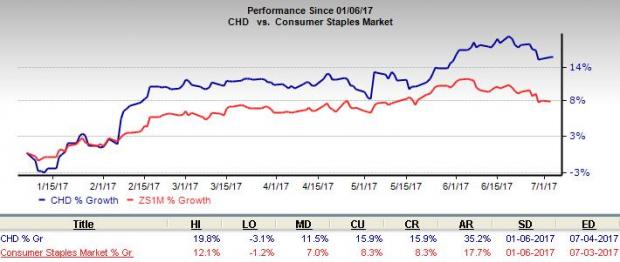 Cost Containment
Besides maintaining a tight control on overhead costs, the company has been mitigating the impact of same through cost reduction programs. It has a set pricing and pre-buying arrangements with certain suppliers and hedge agreements for diesel fuel to combat higher costs.
Headwinds
Church & Dwight has been witnessing headwinds like higher input costs and promotional spending, which may hurt margins. In fact, the company continues to expect modest inflationary environment.
Additionally, Church & Dwight's business appears to be seasonal, especially in the Consumer Domestic and Consumer International segments. Such trends hurt the overall sales of the company. For example, the demand for SPINBRUSH battery-operated toothbrushes is typically higher during the fall. Sales of NAIR depilatories and waxes are higher in the spring and summer months, whereas sales of VITAFUSION and L'IL CRITTERS dietary supplements go up during the fourth quarter every year, in advance of the cold and flu season.
Zacks Rank & Key Picks
Church & Dwight currently holds a Zacks Rank #3 (Hold). Some better-ranked stocks in the same sector include Constellation Brands, Inc. STZ, B&G Foods, Inc. BGS and Aramark ARMK, all carrying a Zacks Rank #2 (Buy). You can see the complete list of today's Zacks #1 Rank (Strong Buy) stocks here.
Constellation Brands has an average positive earnings surprise of 11.7% for the past four quarters, with a long-term earnings growth rate of 18.2%.
B&G Foods generated an average positive earnings surprise of 2.1% over the trailing four quarters and has a long-term earnings growth rate of 10%.
Aramark has an average positive earnings surprise of 4.5% for the last four quarters and has a long-term earnings growth rate of 12%.
Today's Stocks from Zacks' Hottest Strategies
It's hard to believe, even for us at Zacks. But while the market gained +18.8% from 2016 - Q1 2017, our top stock-picking screens have returned +157.0%, +128.0%, +97.8%, +94.7%, and +90.2% respectively.
And this outperformance has not just been a recent phenomenon. Over the years it has been remarkably consistent. From 2000 - Q1 2017, the composite yearly average gain for these strategies has beaten the market more than 11X over. Maybe even more remarkable is the fact that we're willing to share their latest stocks with you without cost or obligation. See Them Free>>
Want the latest recommendations from Zacks Investment Research? Today, you can download 7 Best Stocks for the Next 30 Days.
Click to get this free report
Constellation Brands Inc (STZ): Free Stock Analysis Report
B&G Foods, Inc. (BGS): Free Stock Analysis Report
Aramark (ARMK): Free Stock Analysis Report
Church & Dwight Company, Inc. (CHD): Free Stock Analysis Report
To read this article on Zacks.com click here.
Zacks Investment Research