Tech stocks have been soaring on the back of strong earnings announcements, but the sector still has a few major bellwether reports to look forward to this season. Of these, one of the market's most anticipated earnings reports will be that of consumer electronics behemoth Apple AAPL.
Apple is scheduled to release its fiscal fourth quarter financial results on November 2. On top of this report, the next few days should prove to be a pivotal stretch for the company, as the release of its special edition iPhone X is slated for Friday.
But what does Apple have in store for investors in its Q4 report? Well, our current Zacks Consensus Estimates are calling for earnings of $1.87 per share and revenues of $51.17 billion. These results would represent year-over-year growth of 12.10% and 9.22%, respectively.
Furthermore, Apple is carrying a Zacks Rank #2 (Buy) into its report, and its recent history of beats might make some investors feel more confident about the potential for an earnings surprise.
Of course, earnings and revenue are just two of the many things investors will be looking at when Apple reports on Thursday. Check out these three additional things to expect: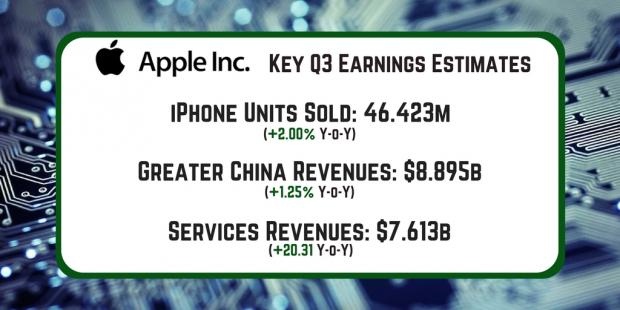 These important stock drivers are from our exclusive non-financial metrics consensus estimate file. These estimates are updated daily and are based on the independent research of expert stock analysts. Learn more here>>>
As we know, Apple is primarily an iPhone company, so investors will likely be focused on the device's unit sales. We're still a few days away from the release of the iPhone X, but the upcoming report will include the initial sales of the company's iPhone 8 device. Because of the dual release, the iPhone 8 won't be a game changer, but company management and analyst estimates are both calling for a bump in overall sales.
According to our current consensus estimates, we expect to see Apple report unit sales of 46.423 million, which would represent growth of 2% from the 45.513 million sold in the prior-year quarter. In Q3, Apple beat our iPhone sales estimates and recorded year-over-year growth of 1.55%.
We're also looking for Apple to report a slight rebound in China. Much has been made about Apple's slumping revenues in the Greater China region, especially as regulatory pressure and competition from domestic manufacturers have increased over the past few years.
In the most recent quarter, Apple's Greater China revenues slipped by 9.54%. However, our current consensus estimates are calling for the company to post regional revenues of $8.895 billion, which would represent growth of about 1.25% from the $8.785 billion posted last year.
And led by the insane growth of Apple Music, the company's music streaming service that reportedly has more than 40 million users, Apple's Services unit is expected to continue its insane growth. Services has been expanding at a nearly 20% rate in each quarter this fiscal year, and our current consensus estimates are calling for that growth to remain at about the same pace.
Make sure to check back here for our full report once Apple reports on Thursday!
Want more stock market analysis from this author? Make sure to follow @
https://twitter.com/Ryan_McQueeney
on Twitter!
Wall Street's Next Amazon
Zacks EVP Kevin Matras believes this familiar stock has only just begun its climb to become one of the greatest investments of all time. It's a once-in-a-generation opportunity to invest in pure genius. Click for details >>
Want the latest recommendations from Zacks Investment Research? Today, you can download 7 Best Stocks for the Next 30 Days.
Click to get this free report
Apple Inc. (AAPL): Free Stock Analysis Report
To read this article on Zacks.com click here.
Zacks Investment Research