Musk eclipses company once famously tied to U.S.'s fortunes
Tesla within $1 billion of Honda, cracking top-five carmakers
Elon Musk's Tesla Inc. surpassed General Motors Co. to become America's most valuable carmaker, eclipsing a company whose well-being was once viewed as interdependent with the nation's.
A week after topping Ford Motor Co., Tesla climbed 3.3 percent Monday, lifting its market capitalization to $50.9 billion. The electric-car maker ended the day valued at about $64 million more than GM. Musk's company is now within $1 billion of Honda Motor Co. and cracking the top-five automakers worldwide.
The turnabout shows the extent to which investors have bought into Musk's vision that electric vehicles will eventually rule the road. While GM has beat Tesla to market with a plug-in Chevrolet Bolt with a price and range similar to what Musk has promised for his Model 3 sedan coming later this year, the more than century-old company has failed to match the enthusiasm drummed up by its much smaller and rarely profitable U.S. peer.
"Tesla engenders optimism, freedom, defiance, and a host of other emotions that, in our view, other companies cannot replicate," said Alexander Potter, an analyst at Piper Jaffray Cos., who upgraded the stock Monday after owning a Tesla for seven months and meeting with management. "As they scramble to catch up, we think Tesla's competitors only make themselves appear more desperate."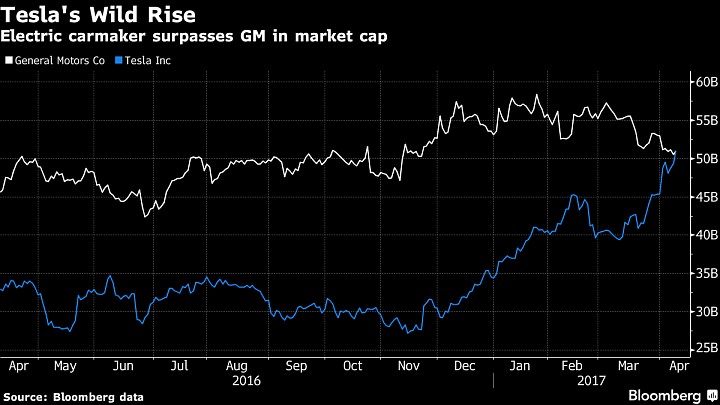 Tesla's...
More