Despite headlines from Kuwait's oil minister that Nigeria and Libya had been asked to joing OPEC/NOPEC discussions with the view of agreeing to a production cap, crude prices are tumbling once again this morning, not helped by dramatic price targetr cuts by BNP and Macquarie.
As Bloomberg reports, oil fell from the lowest closing price in two weeks as talk of Libya and Nigeria being requested to cap their production failed to dispel doubts about the effectiveness of OPEC's cut.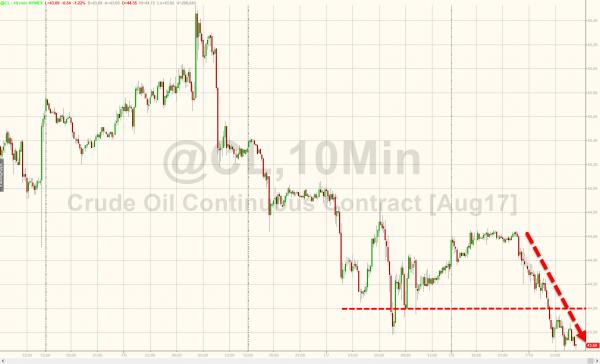 Futures were down over 1% in New York, extending last week's 3.9 percent drop.
The two African producers, who were exempt from supply cuts because of internal strife but are now recovering, have been invited to a July 24 meeting in Russia to discuss whether their production has stabilized, Kuwait's Oil Minister Issam Almarzooq said in Istanbul.
BNP Paribas SA sharply reduced its price forecasts for this year and next because supply growth elsewhere is diluting the impact of the OPEC-led curbs.
Brent 2H 2017 forecast reduced to $54.15/bbl from $58.75, analysts including Vikas Dwivedi at Macquarie Capital (USA) say in e-mailed note.
2018 WTI forecast cut to $46.08/bbl from $52.50
2018 Brent forecast reduced to $49.33/bbl from $55.75
2019 WTI forecast at $48.75/bbl from $56.63
2019 Brent forecast at $52.75/bbl from $60.63
Price forecasts cut as "there will be too much oil being produced, loaded, and marketed, around the world until 2020"
"Today our plain view is that there are too many active oil rigs in the U.S.," says Bjarne Schieldrop, chief commodities analyst at SEB.

"Rigs keep flowing in and the only way to stop that is a lower oil price"
Additionally, Dennis Gartman notes,
The news over the weekend is rather bearishly inclined for as noted here last week there is an important meeting later this month… the 24th to be precise… in St. Petersburg, Russian of the OPEC-non-OPEC Ministerial Monitoring Committee as it is now called, where the current quota and the adherence to that quota by the member nations will be discussed.

However, yesterday, Mr. Barkindo, the Secretary- General of OPEC, said that there will be no discussion of further cuts in the current quota, noting that having such discussions are "premature." Interestingly, Russia' Oil Minister, Mr. Novak, has said that such discussions at the meeting are appropriate and that Moscow is prepared to consider such talks and further action.
While inventories to decline in 2H, a higher rig count and weaker longer-term supply outlook will continue to weigh on the energy complex.