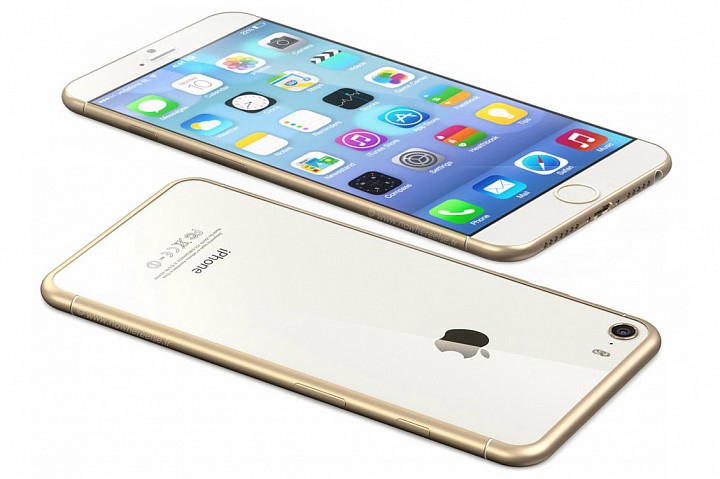 Apple (AAPL) stock broke through the $100 barrier during midday trading today.  It is the first time it has been above $100 since the seven-for-one split in June.
This comes after RBC and Morgan Stanley both released positive reports on the upside potential for sales of the new iPhone.  This has put Apple shares above their split-adjusted record close of $100.30, set on September 19, 2012, just shy of the split-adjusted all-time high of $100.72 from September 21, 2012.
Investors are very bullish on Apple because of the anticipation of the larger next generation iPhone 6.  Apple is expected to sell a 4.7 inch iPhone and a 5.5 inch iPhone.  Both screen sizes are much larger than the current iPhone 5S 4 inch screen.  In addition, Apple is expected to roll out the iWatch, a wearable gadget. This would be Apple's first new product line since the iPad. 
In a note to investors, obtained by AppleInsider, RBC analyst Amit Daryanani forecasts sales of 56 million iPhones in the December quarter.  He even noted a more bullish scenario where the company could ship more than 70 million units in a three-month span.  Apple's biggest quarter ever came last December, when the company sold 51 million total iPhones.
According to Daryanani, supply chain data suggests Apple is asking its suppliers to produce as many as 80 million iPhone 6 units before the end of the year in two form factors of 4.7 inches and 5.5 inches.  In comparison, last year Apple had its supply chain ramp up for 60 million units.
RBC Capital Markets has maintained its "outperform" rating for AAPL stock along with its $110 price target.