Since hitting an 11-year low in 2012, American gasoline demand [as measured by the amount of US motor gasoline supplied] has been steadily rising. That is partially due to oil moving lower, pushing down gasoline prices, but that started in late-2014 not 2012. Record miles driven during the first half of 2015 helped bolster US petroleum demand, aided by WTI [America's crude pricing benchmark] plummeting from $100/barrel to $45/barrel from September 2014 to September 2015. Before that, strong US auto sales growth, particularly light-duty truck sales growth, was and continues to be a key driver.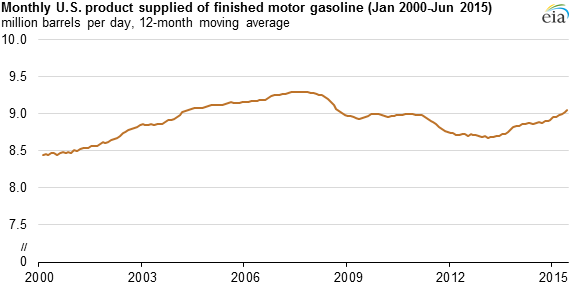 Over 90% of motor gasoline is used in light-duty vehicles, and the shift towards light-duty trucks versus passenger cars means consumers are favoring vehicles with relatively lower gas mileage. Light-duty trucks includes pickup trucks, vans, and SUVs.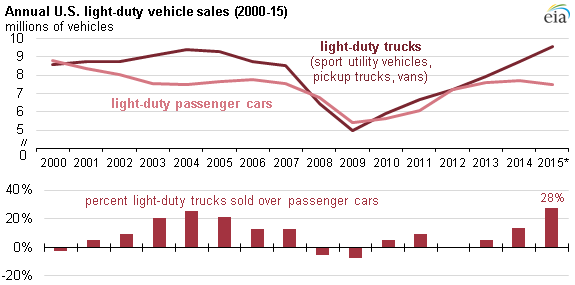 Source: EIA
This year, light-duty truck sales have outpaced passenger car sales by the largest seasonally adjust margin on record. Aiding the growth has been the recovery [albeit slow and uneven] of the US economy [median wage growth has ticked up in 2014 and into 2015], as light-duty trucks can often be more expense. 
There are reasons to believe auto sales growth will remain strong going forward, as the average age of US vehicles on the road remains very high. According to the US Department of Transportation, the average age of US vehicles on the road has increased from 8.4 years in 1995 to 9.8 years in 2005 and hit 11.4 years in 2014. There is only so much mechanics can do before consumers have to make the plunge and get another car. Keep in mind that newer vehicles tend to have much better mileage compared to older vehicles, which would depress motor gasoline demand [better gas mileage has been a big reason why motor gasoline demand is leveling off or declining in developed countries beyond macroeconomic woes]. Even so, this emerging trend is still bullish for gasoline as consumers pick more comfortable cars [gotta love the space in an SUV] and trucks. 
What are your thoughts?