In the latest car-ramming terrorist attack in France, at least six French soldiers were injured, three of them seriously, after being rammed by what was described as a black BMW in a Paris suburb, French Armed forces confirmed, adding that the police were searching for the driver in what prosecutors are treating as the latest act of terrorism.
???? Incident à Levallois Perret : intervention de

https://twitter.com/hashtag/Police?src=hash

en cours. Un véhicule est recherché

— Préfecture de police (@prefpolice)

https://twitter.com/prefpolice/status/895176941128613888
Patrick Balkany, the local mayor for the suburb of Levallois-Perret, said on French television that it was "without a doubt a deliberate act." Quoted by the WSJ, he said the vehicle involved was a black BMW. The driver waited in an alley near the local city hall before driving his car into the men as they walked out of a building toward their vehicle around 8 a.m. local time, Mr. Balkany added. He also said that the incident took place not far from the town hall.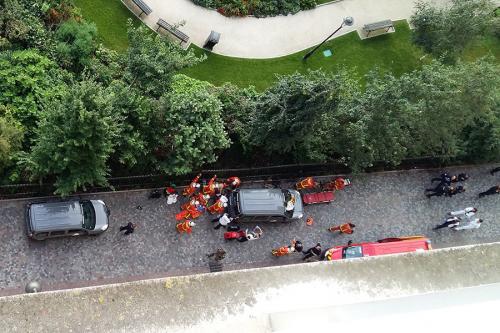 "I find this shameful," Balkany said, calling the incident an "intolerable aggression."
Minister for the Armed Forces Florence Parly condemned the incident as a "cowardly act,"saying that the investigation is yet to determine the motives of the attacker. The counter-terrorism unit of the Paris prosecutor's office has launched an investigation into the incident, AFP reports, citing the prosecutor's office.
Une tentative d'attentat a eu lieu. 6 blessés. Dispositif police sur place.

https://twitter.com/hashtag/Levallois?src=hash

pic.twitter.com/V0zxyP9Jjp

— Clément Lanot (@ClementLanot)

https://twitter.com/ClementLanot/status/895188813269655552
After the attack, three soldiers were seriously injured but their lives aren't in danger, Defense Minister Florence Parly said. The soldiers were among some 7,000 who have been deployed across the country to protect sensitive targets such as government offices, schools, places of worship and tourist attractions. There are many security cameras in the area.
The ongoing string of attacks, which started with a Nov. 13, 2015 assault by Islamic State militants that killed 130 people in Paris and the truck attack in Nice that killed 86 on Bastille Day in July 2016, has put France on edge. The government has declared and renewed a state of emergency, but the crackdown hasn't stopped the drumbeat of periodic attacks.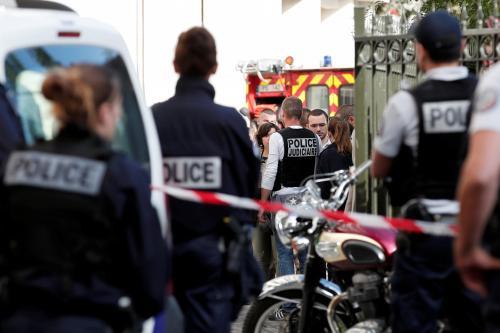 There have been roughly a dozen terror attacks in France since Nov. 2015, and more than half of those targeted military patrols or police. In June, two separate attackers targeted armed patrols near the Notre Dame Cathedral and on the Champs-Élysées, causing only minor injuries. In April, a gunman opened fire on the Champs-Élysées, killing a police officer and wounding two other people. Police returned fire, killing the gunman, who was later identified as Karim Cheurfi, a French national. Islamic State claimed responsibility for the April attack, said SITE Intelligence Group, which monitors the extremist group's communications.
Wednesday's incident is the second potential terrorist attack in just a few days in the Paris region. On Saturday night, a knife-wielding man attempted to force his way into the Eiffel Tower.
The man, who was shouting "Allahu akbar"—Arabic for "God is great"—was quickly detained by police and no one was harmed, a spokeswoman for the Paris prosecutor's office said. The man has a history of psychological problems, she added, without disclosing further details. "Psychological problems" has become Europe's generic cop out when it wishes to avoid any debate or discussion on the ongoing terrorist attacks by radicalized jihadists.