After last night's bloodbathery in China, analysts and officials are out en masse to ensure a newly re-leveraged Chinese investors that the "stock plunge is a normal correction." Disappointingly, Chinese stocks are barely bouncing at the open, which is not what we can say for Japan, where the mysterious uneconomic panic-buyer-of-first-resort appeared once again and smashed the Nikkei 225 200 points higher at the open (after weakness in the US).
Japanese stocks meltup to catch up with USDJPY at the open, but are fading back...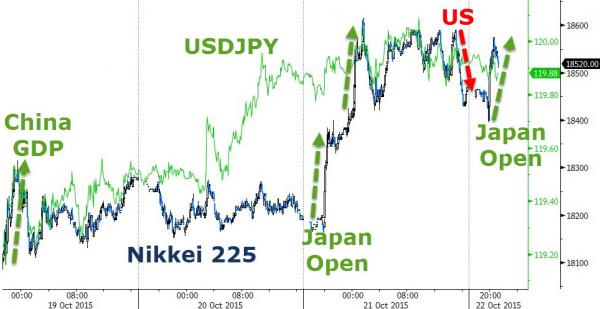 And after last night's carnage in China...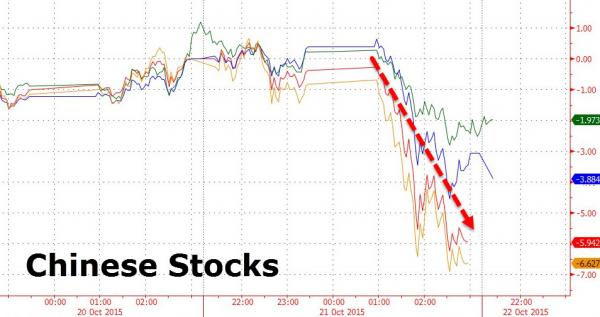 Analysts are anxiously reeassuring everyone... (as Bloomberg reports),
Investors shouldn't be too pessimistic about market outlook as Wed.'s tumble was "normal correction" from previous strong run, analysts Luo Wenbo and Zeng Yan at Zhongtai Securities said in report.

 

Some investors sold shares ahead of next week's Party plenary session on concern gains were excessive, causing "herd effect" on Wed., report said

 

Room for further downside is limited as liquidity is still adequate, reform motivation is strong and market sentiment has gradually picked up: report
PBOC fixed the Yuan modestly weaker but the Offshore-Onshore spreads remains near 1 month wides...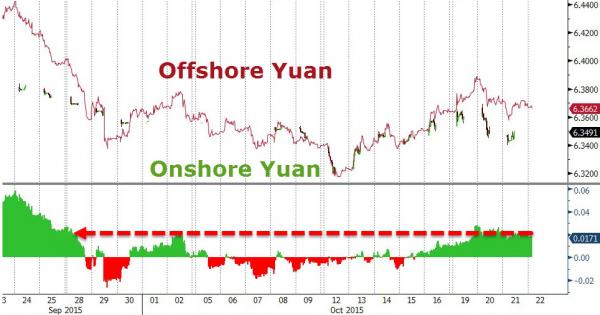 In addition, China's central bank added funds to the banking system using six-month loans to keep borrowing costs down as a slowdown in the world's second-largest economy spurs capital outflows.
The People's Bank of China supplied 105.5 billion yuan ($16.6 billion) to 11 commercial lenders on Wednesday using the Medium-term Lending Facility, according to a statement posted on its official microblog. The rate was 3.35 percent, the same as for similar-term funds injected in August.
And The USDollar is slipping against Asian FX...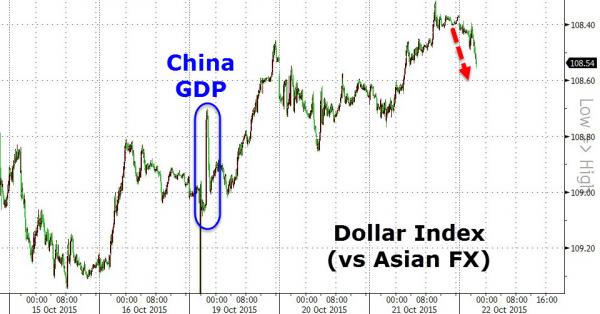 Charts: Bloomberg