Summary
Horizon Pharma like most small cap concerns in biotech has seen its stock substantially sell-off in the carnage throughout the biotech sector over the past 10 weeks.
Mizuho Securities issued a Buy rating and a $32.00 a share price target on Horizon this week. This is more than 60% upside from current levels.
However, the price target seems more than reasonable given Horizon's growth prospects, the fact this is under where the shares traded a few months ago and other analysts' price targets.
It has been a tough road for biotech investors since late July. The main biotech indices have dipped their toe into official bear market territory and the carnage in the small cap sector of the area has seen even deeper declines. Frequent deep and sudden declines are part of investing in this lucrative but volatile part of the market. The last deep sell-off before this one happened in early March, lasted two months and saw a similar dispersion within that pullback.
The good news is this too shall pass and recent sell-off have made stocks that have great long term prospects much, much cheaper for patient and opportunistic investors. One of these is Horizon Pharma (NASDAQ:HZNP) which has been more than cut in half since this hiccup in the biotech sector began some 10 weeks ago.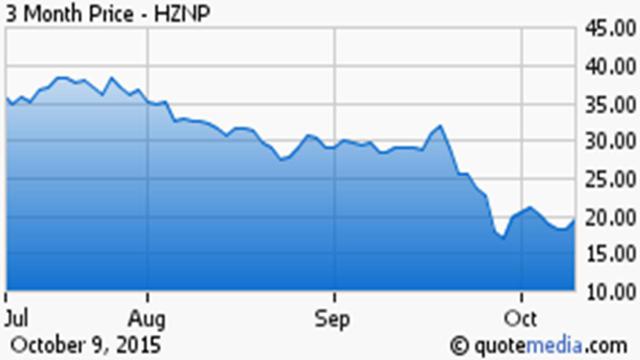 Mizuho Securities initiated the shares as a Buy this week and placed a $32.00 a share price target on Horizon. Not exactly a brave call given the shares trading above that level earlier in summer. Let's take a look at the long term investment case on Horizon and why the decline is likely to be a great buying opportunity one or two years...
More