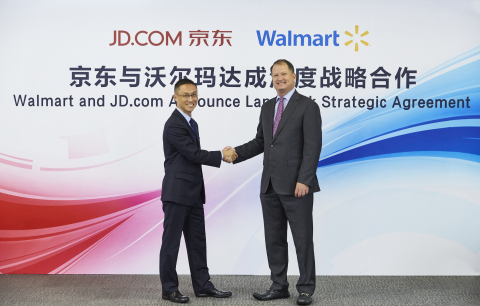 BENTONVILLE, Ark. & BEIJING--(BUSINESS WIRE)--Walmart (NYSE:WMT) and JD.com (Nasdaq:JD), China's largest e-commerce company by revenue, today announced that they have formed a strategic alliance to better serve consumers across China through a powerful combination of e-commerce and retail.
The agreement between the companies includes a wide range of business initiatives, covering both online and offline retail. For Walmart, the alliance greatly expands its opportunity in China e-commerce and provides its stores and Sam's Clubs with potential traffic from JD.com's significant base of online customers and vast same-day delivery network to serve its customers. JD.com will leverage Yihaodian's strong brand and business in eastern and southern China and in key product categories such as high-quality grocery and household goods, both of which complement its own geographical and product strengths. In addition, JD.com's customers will gain access to a wide range of new and imported items from Walmart and Sam's Club.
As part of the agreement, Walmart will receive 144,952,250 newly issued JD.com Class A ordinary shares, amounting to approximately 5 percent of total shares outstanding and the companies will partner in several strategic areas, including:
JD.com will take ownership of the Yihaodian marketplace platform assets, including the Yihaodian brand, website and app. Walmart will continue to operate the Yihaodian direct sales business and will be a seller on the Yihaodian marketplace, leveraging its global supply chain to provide customers a wide range of products. JD.com and Walmart will work together on growing the Yihaodian brand and business under its current name and market position.
Sam's Club China, which has proven tremendously successful within the markets it operates in China, will open a flagship store on JD.com, vastly expanding the availability of Sam's Club's high-quality imported products across China. It will offer same- and next-day delivery through JD.com's nationwide warehousing and delivery network, which covers a population of 600 million consumers.
Walmart and JD.com will work together to leverage their supply chains to increase the product selection for customers across China, including broadening the range of imported products.
Walmart's China stores will be listed as a preferred retailer on JD.com's O2O JV Dada, China's largest crowd-sourced...
More