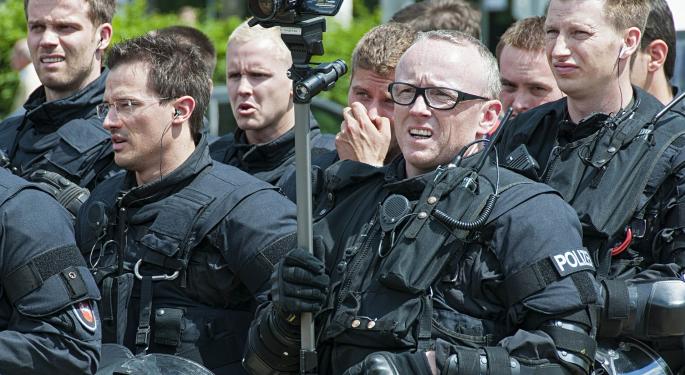 Given the recent civil unrest surrounding the deaths of Alton Sterling, Philando Castile and the five officer killings in Dallas, stocks related to law enforcement saw large spikes in stock prices last Friday.
On the subsequent Monday, lesser-known law enforcement names such as Vicon Industries, Inc. VII 14.29%, Digital Ally, Inc. DGLY 4.2%, COPsync Inc COYN 4.13% and Image Sensing Systems, Inc. ISNS 2.74% fell on what was seemingly profit taking from the Friday spike. However, these shares continued to fall on Tuesday, after Gov. Pat McCrory signed the Body Cam bill into law for North Carolina on Monday afternoon.
The law specifically states body cameras are no longer public record. An individual can request the video file, if he/she is seen in the image, or heard on audio, but the request can be denied. Despite President Barack Obama's stance on police shootings as 'an American issue', McCrory believes this type of technology can mislead and misinform the public, stating, "It's better to have rules and guidelines with all this technology than no rules and guidelines whatsoever."
Tuesday saw the continued slide in law enforcement, especially in the following:
While the new legislation and pullback from Friday's surge can be cause for concern, there is still a large degree of civil unrest, especially with major political events approaching. The Republican National Convention will be taking place in Cleveland July 18–21, while the Democratic National Convention will be hosted in Philadelphia July 25–28.
STAT news reported hospitals in both cities are preparing surgeons and supplies enough for a 96-hour siege, citing one of the biggest concerns is that demonstrations could turn violent.
Continue to watch these law enforcement stocks throughout the next month, along with gun stocks such as Sturm, Ruger & Company RGR 2.52% and Smith & Wesson Holding Corp SWHC 1.98%, which are also trading down 2.73 percent and 2.43 percent, respectively.
Did you like this article? Could it have been improved? Please email feedback@benzinga.com to let us know!
© 2016 Benzinga.com. Benzinga does not provide investment advice. All rights reserved.