Until recently, the big news in the world of news was that Facebook was retreating from journalism. After an unexpected dip in the personal sharing that is its core business, plus a mini-scandal involving allegations of political bias in how it displayed content from conservative websites, Facebook said it was updating its algorithm to prioritize wedding announcements and baby photos over postings by media companies. "Friends and family come first," the company said in a June 29 blog post.
And when Chief Executive Officer Mark Zuckerberg announced the Facebook Live video function, he presented it as a platform for life's small trials and triumphs. "You can feel like you're really there with your friends," he said on April 6, when the service launched. Among the videos he praised: a young man's haircut as it happened, a woman skiing downhill with her kids, and a zoo camera trained on some baby birds. "Everyone is tuned in, watching these cute bald eagles, wondering what's going to happen," he said, with a wide grin. "It's kind of a new thing."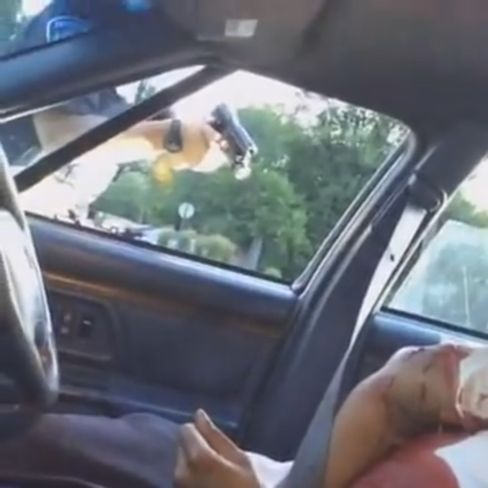 The sentiment suddenly feels quaint. On July 6, during what should have been a routine traffic stop, a police officer in suburban Minneapolis fired multiple shots at Philando Castile, a 32-year-old black man. Seconds later, as he slumped, bloody and gasping for air next to her in the car, Diamond Reynolds, his girlfriend, opened the Facebook app on her smartphone and pressed the Go Live button. She narrated calmly, panning from the gun pointed in her direction to her dying companion, and even kept the broadcast going as she was thrown to the ground, cuffed, and taken into custody. "It's OK, Mommy," her 4-year-old daughter could be heard saying in the back seat. "I'm right here with you."
The next day, Facebook was used by witnesses in Dallas to broadcast live footage of the attack that left five police officers dead and seven others wounded at a Black Lives Matter protest organized in response to the shootings of Castile and Alton Sterling in Baton Rouge, La. In the aftermath of the violence, Facebook Live was inescapable, as public figures took to the platform to process in real time what had happened. "If you are a normal white American, the truth is you don't understand being black in America, and you instinctively underestimate the level of discrimination and the level of additional risk," Newt Gingrich...
More