Tractor Supply Company TSCO has been gaining from its store growth initiatives, omni-channel strategies, solid earnings and sales growth trend, and effective inventory management. Further, the recent Petsense acquisition is likely to bolster the company's presence in the pet specialty space, which is a growing market.
These factors helped the stock gain 18.9% in the last three months, surpassing the industry's 4% growth. Also, the company has a Zacks Rank #2 (Buy) and a long-term earnings growth rate of 14%.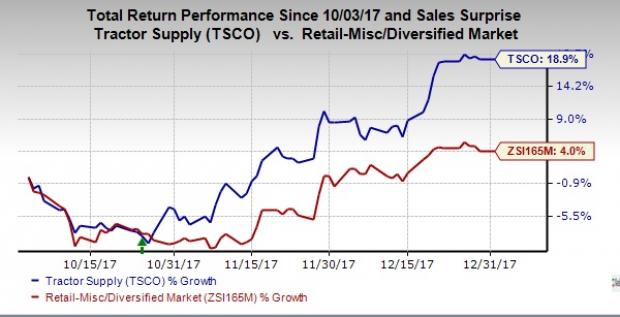 Let's discuss the initiatives taken by the company to induce long-term growth.
Sturdy Store Growth Initiatives
Tractor Supply is on track with its growth initiatives including expansion of store base and incorporation of technological advancements to induce traffic and drive sales. Additionally, the company leverages an extensive network of stores to penetrate into target markets, which in turn enables it to generate healthy sales and gain market share. Evidently, the company is planning to achieve its long-term domestic store growth target of 2,500 stores.
Omni-Channel Capabilities to Drive Sales
Tractor Supply is keen on synchronizing its physical and digital operations to provide a seamless shopping experience to its customers. This is clear from progress on its One Tractor initiative, which focuses on connecting stores and online shopping. Of late, the company also initiated Buy Online Pick Up in Store program that has been successful in contributing nearly 75% to online sales in the third quarter. Meanwhile, Tractor Supply continues to expand its Neighbor's Club customer rewards program. Both these initiatives are expected to boost the top line. The company expects long-term results to benefit from its mobile POS and stockyard initiatives as well.
Inventory Management — A Key Tool
Tractor Supply has been stringently focusing on managing inventories to minimize effect of weather on its results and capitalize on seasonal demand. In fact, the key focus here has been enhancement of IT systems and supply chain. Additionally, it has been investing in various new systems including demand planning, improved pricing, inventory allocation, all of which are directed toward generating supply chain efficiencies in order to better manage global inventories.
Furthermore, the company remains focused on the execution of its digital priorities lending support needed to bolster growth at merchandising, customer facing and logistics capabilities. In this regard, Tractor Supply expects to complete the construction of its planned New York distribution center by the third quarter of 2018.
Petsense Acquisition a Boon to Pet Business
Tractor Supply is progressing well with the integration of the recently acquired Petsense LLC, which has opened its doors to the roughly $60 billion pet market. Notably, this acquisition complements its existing pet business operating under the HomeTown Pet Stores banner. As part of the integration, the company successfully converted its two HomeTown Pet stores to Petsense in the first quarter.
In addition, the company is on schedule to launch a premium dog and cat food brand — True Source — in its Petsense stores. Tractor Supply also intends to launch an e-commerce site for Petsense toward the end of the fourth quarter with the Buy Online Pick Up in Store facility expected in spring 2018.
Compelling Earnings & Sales Growth Trend, Strong Outlook
Tractor Supply has a notable record of delivering earnings and sales growth for more than two years now. Following a miss in the second quarter, the company's top- and bottom-line surpassed the Zacks Consensus Estimate in third-quarter 2017 backed by solid comparable store sales (comps) growth and effective inventory management. Comps were driven by strength across all regions and major product categories. Further, the top line was fueled by sales of emergency response products.
For the fourth quarter, the company remains well-positioned to drive growth owing to increased demand for cold weather products. Backed by these trends, management raised its earnings and sales outlook for 2017.
Bottom Line
Despite the above-mentioned tailwinds, deflation remains a concern for Tractor Supply, which is likely to linger in 2017. Furthermore, management expects SG&A expenses deleverage in the fourth quarter. The headwinds related to unfavorable product mix and elevated transport costs are also likely to dent gross margin this year.
Nevertheless, the company is poised for long-term growth driven by its inherent strength and growth initiatives.
Do Retail-Wholesale Stocks Grab Your Attention? Check These
Investors interested in the sector may consider Beacon Roofing Supply Inc. BECN, Fastenal Company FAST and Canada Goose Holdings Inc. GOOS. While Beacon Roofing sports a Zacks Rank #1 (Strong Buy), Fastenal and Canada Goose carry a Zacks Rank #2. You can see the complete list of today's Zacks #1 Rank stocks here.
Beacon Roofing delivered an average positive earnings surprise of 6.4% in the trailing four quarters. It has a long-term earnings growth rate of 25%.
Fastenal pulled off an average positive earnings surprise of 2.3% in the trailing four quarters. It has a long-term earnings growth rate of 14%.
Canada Goose came up with an average positive earnings surprise of 32.4% in the trailing four quarters. It has a long-term earnings growth rate of 35.8%.
Zacks Editor-in-Chief Goes ""All In"" on This Stock
ull disclosure, Kevin Matras now has more of his own money in one particular stock than in any other. He believes in its short-term profit potential and also in its prospects to more than double by 2019. Today he reveals and explains his surprising move in a new Special Report.
Want the latest recommendations from Zacks Investment Research? Today, you can download 7 Best Stocks for the Next 30 Days.
Click to get this free report
Fastenal Company (FAST): Free Stock Analysis Report
Beacon Roofing Supply, Inc. (BECN): Free Stock Analysis Report
Canada Goose Holdings Inc. (GOOS): Free Stock Analysis Report
Tractor Supply Company (TSCO): Free Stock Analysis Report
To read this article on Zacks.com click here.