Analyst Romit Shah with Instinet (by way of Barron's) recently offered up some commentary around microprocessor giant Intel's (NASDAQ:INTC) planned higher-than-expected operating expenses for next year.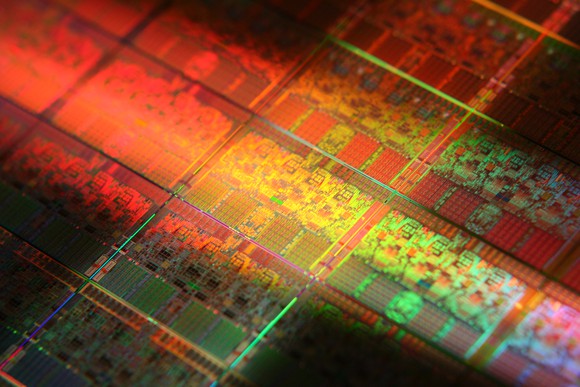 One possibility that Shah points out is that Intel could be investing heavily in support of a potential contract chip manufacturing deal with Apple (NASDAQ:AAPL).
Intel currently designs and builds the processors that power Apple's Mac computers, but the A-series processors that power its iPhone and iPad product lines are designed by Apple and manufactured by other chipmakers, such as Taiwan Semiconductor Manufacturing Company (NYSE:TSM) and Samsung (NASDAQOTH:SSNLF).
"We have no insight into discussions between Intel and Apple, but within our mosaic, we believe an Apple foundry win would be highly sensitive, which might explain why Intel is being uncharacteristically vague in its communication and waiting until its analyst day in February to provide more details on spending," Shah writes.
Shah also says that "a high-volume foundry win for Intel would materially increase operating expenses." He goes on to add that "part of Intel's value-add as a foundry is that the company takes on design work for the customer."
Here's why I don't think this explanation holds water.
Why Intel is being so vague about 2017 spending
In the past, Intel would issue its full-year financial guidance in January and then go into further detail on the key business and financial details during an analyst day held in the spring. However, former Intel CEO Paul Otellini retired in May 2013, so the...
More