Qualcomm is due to report Q2 2016 earnings on Apr. 20, 2016 after market close.
Qualcomm is expected to report a huge revenue decline.
Qualcomm's business might begin to recover during the second half of the year and provide momentum.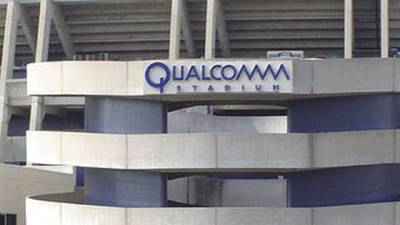 Mobile phone technology company Qualcomm (NASDAQ:QCOM) is slated to report Q2 2016 earnings on Apr. 20, 2016 after market close. The consensus on Wall Street is for revenue of $5.33B, which will be good for a 22.8% Y/Y decline while GAAP EPS of $0.96 will be good for 52.3% Y/Y increase.
Qualcomm issued weak Q2 guidance as follows:
Revenue of $4.9B-$5.7B, which is 17%-29% lower compared to the prior year's comparable quarter. Qualcomm's guidance was unusually low considering that the mid-point of its guidance is 7% lower than the consensus.
Non-GAAP EPS in the range of $0.90-$1.00, way below the consensus on Wall Street of $1.02.
Further, Qualcomm projected that it will ship 175M-195M MSM chips, 20.5% lower at the midpoint than a year ago. The company said that it expects device sales during the quarter to clock $65B-$73B or a 9% Y/Y decline at the mid-point.
Qualcomm has exceeded earnings estimate during the last four consecutive quarters. During the last earnings call, the company beat revenue by $80M and EPS by $0.07.
Qualcomm Quarterly Earnings Surprise History
Fiscal
Quarter End
Date
Reported
Earnings
Per Share
Consensus
EPS* Forecast
%
Surprise
Dec2015
01/27/2016
0.85
0.78
8.97
Sep2015
11/04/2015
0.79
0.71
11.27
Jun2015
07/22/2015
0.86
0.78
10.26
Mar2015
04/22/2015
1.28
1.2
6.67
Source: NASDAQ
Qualcomm is well-known to issue weak guidance which it then easily beats. But merely beating top and bottom line might not be enough to fire a rally in Qualcomm stock. Qualcomm shares have rallied about 22% from their February low. But that rally was in...
More