As recently as several months ago, the financial press was surprised when a wave of Deutsche Bank employees, particularly those in the bank's legal department (such as here and here), decided to take their own lives. Now at least one Deutsche Banker, perhaps perturbed by the recent news involving the unexpected departure of his co-CEOs coupled with the even more unexpected raid of the bank's global headquarters, has decided to show the jump from sui- to homicide is a simple one.
Earlier today, Hong Kong police arrested a 48-year-old Deutsche Bank employee on "suspicion of dangerous driving and causing death." The fatal accident happened early on Tuesday at a car park near Deutsche's office at International Commerce Center, across the harbor from the city's financial district.
According to Reuters, the driver was Deutsche's head of Asia-Pacific equities trading, Robert James Ebert, who was behind the wheel of a Ferrari at the time of the accident.
Below is his Linkedin profile: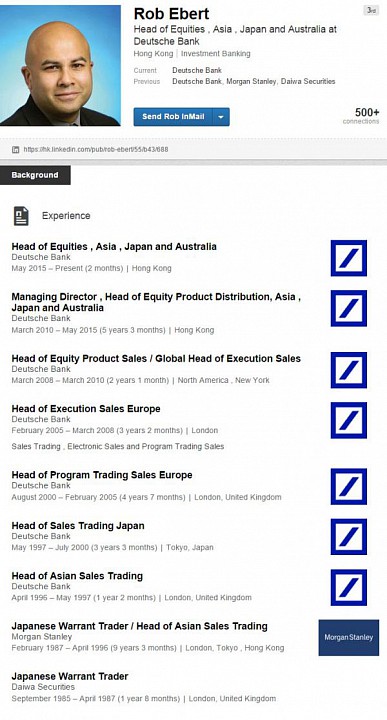 Police said the arrested driver, whom it identified only as James, had said he lost control of his car. The police said a 53-year-old man, who was next to the barriers, died after suffering serious head and shoulder injuries. He was pronounced dead in the hospital early in the afternoon.
The Apple Daily newspaper also identified the driver as Ebert and said he was driving a black, HK$4.5 million ($580,502) Ferrari, which was in collision with a HK$2.4 million Maserati at the car park entrance before hitting a security guard.
It was unclear if Ebert was under the influence of drugs or alcohol at the time of the accident.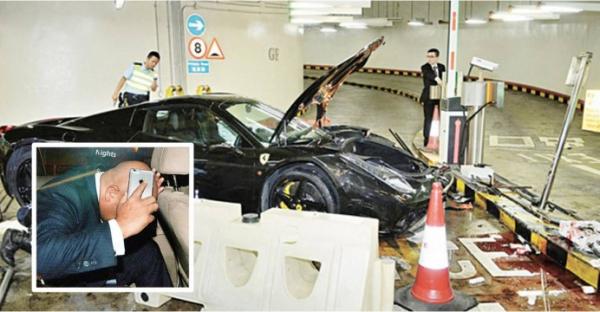 The police said the driver was not charged. He was released on bail in the early hours of Wednesday and has to report back in mid-July, the police said.
So guy drives a car which costs more than most Americans will make in a decade (pretax), crashes and kills an innocent bystander, and promptly posts bail and is allowed to roam, and drive, in freedom.
Meanwhile Nav Sarao rots in the UK's worst prison unable to pay his ridiculous $5 million bail, for the simple reason that he was a good trader and dared to expose the HFTs' rigging to regulators. He faces a maximum sentence of 380 years in jail.
It's ok though: when Stan Fischer and Mark Carney said bankers have to go to prison for "at least" 10 years when caught rigging markets they said nothing about bankers who engage in homicide. It appears the legal system will need a central bank explainer on how to proceed in that specific case.