Coca-Cola Stays ahead of Wall Street with Its 2Q15 Earnings
2Q15 margins decline
Coca-Cola (KO) reported a gross margin of 60.9% in 2Q15, which ended on July 3, 2015. The company's gross margin declined from 61.7% in the comparable quarter of the previous year. The company's operating margin in 2Q15 also declined to 20.9% from 25.2% on a year-over-year basis.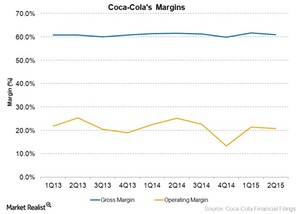 What brought down the margins?
Coca-Cola's margins in 2Q15 declined due to the impact of currency fluctuations and structural changes. These unfavorable factors offset the impact of increased pricing, slightly lower commodity costs, and productivity initiatives. Structural changes mainly relate to the refranchising of the company's bottling operations...
More