Premium diversified machinery company, The Middleby Corporation MIDD, reinforced its inorganic growth trajectory by successfully acquiring CVP Systems Inc. (CVP Systems), for an undisclosed amount. The company noted that this deal would fortify its Food Processing Equipment Group's business, moving ahead.
Inside the Headlines
CVP Systems manufactures high-speed packaging systems for the global meat processing industry. Bag machinery, meat packing & processing equipment, food wrappers, plastic sealers and weighing & packaging machinery are some major product categories offered by the company. CVP Systems is considered the worldwide leader of Modified Atmosphere Packaging. It is a unique packaging technology which helps in extending the shelf life of food, by removing air, and creating a more favorable packaging environment. This Downers Grove, IL-based company generates revenues worth $20 million, on an annualized basis.
The CVP Systems buyout will enhance Middleby's Food Processing Equipment Group's product portfolio, moving ahead. This segment provides a variety of products such as batch ovens, processing ovens, defrosting and packaging equipment. Middleby has been trying to strengthen the segment's business inorganically, for the past few quarters, on the back of acquisition deals such as the Burford Corporation buyout (May 2017) and the Follett Corporation buyout (May 2016).

Why on Hold?
Headwinds such as adverse foreign currency translation impact, stiff industry rivalry or sudden price inflation might hurt the company's near-term results. Over the last one month, Middleby's shares lost 7.76%, wider than the loss of 0.23% incurred by the Zacks categorized Machinery-General Industrial industry.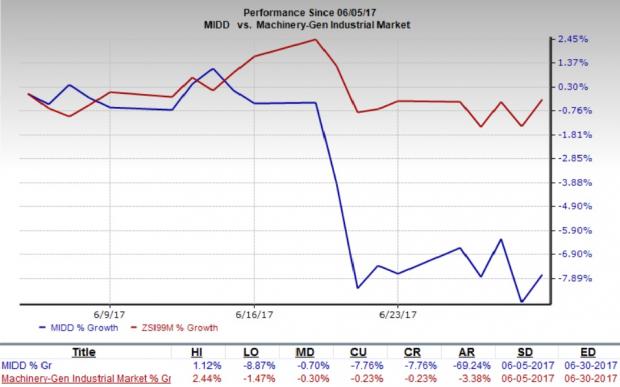 However, amid such headwinds, this Zacks Rank #3 (Hold) stock is poised to grow on diligent acquisitions, sound restructuring moves and strategic innovation investments.
Stocks to Consider
Some better-ranked stocks in the industry are listed below:
Colfax Corporation CFX has an average positive earnings surprise of 9.45% for the last four quarters and currently sports a Zacks Rank #1 (Strong Buy). You can see the complete list of today's Zacks #1 Rank stocks here.
AGCO Corporation AGCO carries a Zacks Rank #2 (Buy) at present and has an average positive earnings surprise of 40.39% for the trailing four quarters.
Altra Industrial Motion Corp. AIMC also holds a Zacks Rank #2 and has an average positive earnings surprise of 15.93% for the past four quarters.
5 Trades Could Profit ""Big-League"" from Trump Policies
If the stocks above spark your interest, wait until you look into companies primed to make substantial gains from Washington's changing course.
Today Zacks reveals 5 tickers that could benefit from new trends like streamlined drug approvals, tariffs, lower taxes, higher interest rates, and spending surges in defense and infrastructure. See these buy recommendations now >>
Want the latest recommendations from Zacks Investment Research? Today, you can download 7 Best Stocks for the Next 30 Days.
Click to get this free report
AGCO Corporation (AGCO): Free Stock Analysis Report
The Middleby Corporation (MIDD): Free Stock Analysis Report
Altra Industrial Motion Corp. (AIMC): Free Stock Analysis Report
Colfax Corporation (CFX): Free Stock Analysis Report
To read this article on Zacks.com click here.