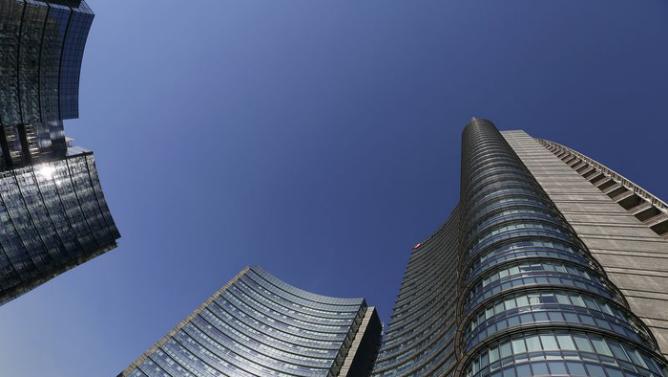 MILAN (Reuters) - Italy has dubbed its new bank bailout fund Atlas, after the mythical Greek titan, because it is meant to hold up the sky above the nation's lenders. But some of the fund's own investors doubt that it can do the job.
The 5-6 billion euro ($5.7-6.8 billion) fund was hailed by the government as an industry-led response to concerns in Rome and other European capitals about the euro zone's fourth-biggest banking system.
But it was only reluctantly accepted by some of the financial institutions that committed to it, according to seven sources, including four of the institutions that eventually agreed to put money in the fund.
Some bankers involved in the scheme voiced fears the fund would expose their own banks to the self-inflicted problems of a few lenders, the sources said.
They also said that the fund may not be big enough to make a real dent in Italy's 360 billion euros in bad debts, a third of the euro zone's total, if it spends most of its money on helping recapitalize weaker banks, according to the sources.
Italy's biggest retail bank, Intesa Sanpaolo (ISP.MI), and another lender, Banco Popolare (BAPO.MI), spoke out against Atlas in tense, closed-door meetings leading up to the fund's announcement on Monday, according to two sources who were present.
Some bankers complained they were being asked to sign up to a multi-billion-euro fund without any documentation, the sources said.
A person who played a key role in setting up the fund said some of the details were only fine-tuned at midday on Monday, so no paperwork was distributed at the final meeting with bankers in the evening. The plan's first formal draft circulated the following day.
Unenthusiastic bankers only agreed to back it after government and central bank officials warned of a crisis of confidence in the sector unless big lenders signed up.
The person who had a key role in setting up the fund said they were told that if a single bank's effort to raise cash on the market failed, it would drag the whole industry down.
Intesa Sanpaolo and Banco Popolare declined to comment on the talks leading up to the fund's creation and on whether they had reservations about the scheme.
A Bank of Italy spokeswoman said it supported the initiative by private financial institutions, which the central bank governor has described as a safety net to ensure choppy markets do not impede...
More