While Scotland was busy concluding the count of its votes against independence, Royal Air Force fighter jets based out of the northern Scottish base in Lossiemouth in Moray, were scrambled to identify and intercept two airplanes which subsequently were revealed to be Russian Tu-95 Russian "Bear H" strategic bombers, that were spotted in international airspace although the exact location of the encounter has not been disclosed. As the RAF later clarified in a statement, the aircraft did not enter UK airspace. 
The statement said the launch was the first time a Quick Reaction Alert (QRA) had been issued from RAF Lossiemouth since the Moray base took on the role of defending the UK's northern airspace.
As Sky reports, RAF Lossiemouth's Station Commander, Group Captain Mark Chappell, said: "This first successful launch for QRA North has been what all of the hard work by RAF Leuchars and RAF Lossiemouth personnel over recent months has been for.
"The relocation of two Typhoon squadrons was a significant challenge, one that was met by our whole team.
"The many months of preparation and infrastructure improvements have made us absolutely ready for this launch, and shows we are in the best position to provide the service to the United Kingdom that the Royal Air Force was primarily created for - that is, the protection of our airspace."
And while the RAF apparently was merely responding to what was yet another training exercise by Russia - as a reminder in June two Typhoon jets were scrambled into action to head off four separate groups of Russian aircraft that were flying near the Baltic, which the Ministry of Defence said appeared to be carrying out  a 'routine training' exercise in international airspace and were later escorted out of the area - it did take the opportunity to release a photo album of the interception in progress.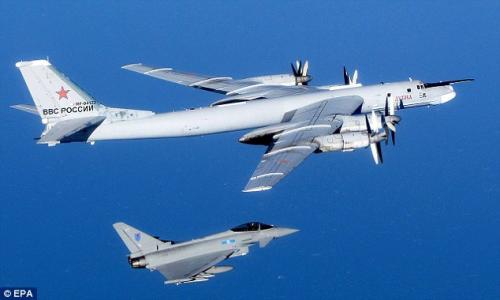 A British Typhoon jet, bottom, is seen intercepted one of two Russian 'Bear' aircraft that were spotted flying in international airspace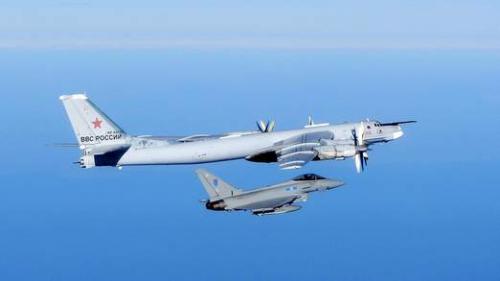 Another angle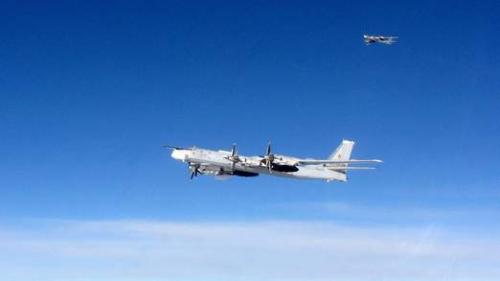 And yet another.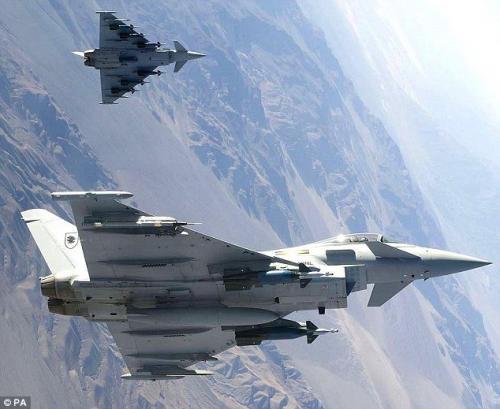 The interception, which involved two Typhoon jets pictured, was the first time a Quick Reaction Alert had occurred since the Lossiemouth, Scotland, base had taken on the role of defending the UK's Northern airspace.