A glimpse of The New York Times Company NYT share price movement reveals that it has surged 20% in the past three months compared with the Zacks categorized Publishing-Newspapers industry's gain of 7.9%. The company has been contemplating new avenues of revenue generation in a bid to counter the dwindling advertising revenues. Analysts pointed out that increasing online readership has made the print-advertising model redundant.
The New York Times Company is fast acclimatizing to the changing face of the multiplatform media universe, and has already included mobile and reader application products in portfolio. Other publishing companies such as New Media Investment Group Inc. NEWM, Gannett Co., Inc. GCI and The McClatchy Company MNI are also trying to adapt to different revenue generating ways. The company has been realigning cost structure and streamlining operations to increase efficiencies. It had offloaded assets that bear no direct relation with the core operations in order to concentrate on online activities.
Strategic Endeavors
Pay As You Read
The New York Times Company is concentrating on online activities, as evident from its pay-and-read model. Its pricing system for NYTimes.com was launched on Mar 28, 2011. The company notified that the number of paid digital subscribers reached 2,201,000 at the end of first-quarter 2017 – rising 348,000 sequentially (308,000 came from the digital news products and 40,000 from the Crossword product) and 62.2% year over year. We also noted that digital advertising revenue advanced 18.9% to $49.7 million, after witnessing an increase of 10.9% in the final quarter of 2016.
Focus on Other Verticals
The company is not only gearing up to become an optimum destination for news and information but is also now focusing on service journalism, with verticals like Cooking, Watching and Well. In sync with this strategy, it acquired The Wirecutter and its sister site, The Sweethome that recommends people about technology gear, home products and other consumer services. The company also acquired a digital marketing agency and portfolio company, HelloSociety, from Science Inc., which complements its T Brand Studio that helps in creating digital ad innovation and branded content. The company has launched digital subscriptions for NYT Cooking, its popular recipe site and app.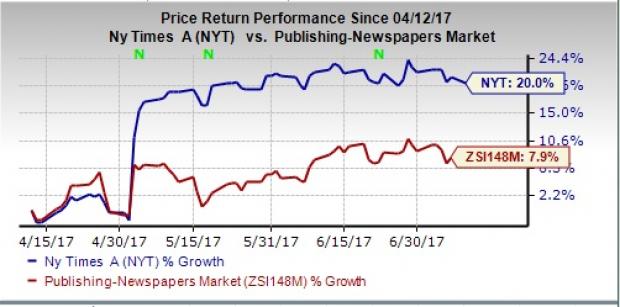 Hurdles to Overcome
Advertising remains a significant source of revenue for The New York Times Company, which in turn is dependent upon the health of the economy. We observed that the company has been struggling with dwindling advertising revenue for quite some time now. Total advertising revenue dropped 6.9% during the first quarter of 2017, following declines of 9.7%, 7.7%, 11.7% and 6.8% witnessed in the fourth, third, second and first quarters of 2016, respectively. Maintaining the same chronological order print advertising revenue fell 17.9%, 20.4%, 18.5%, 14.1% and 9%, respectively.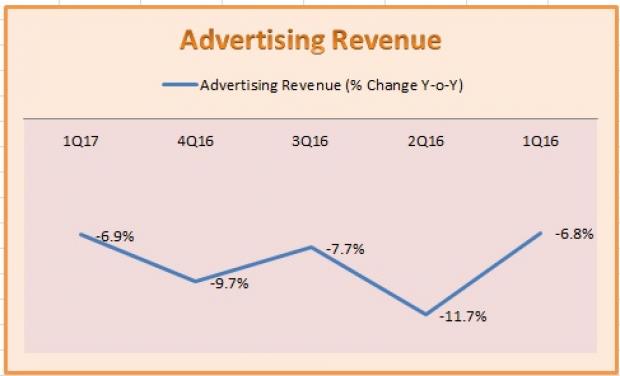 Given the pros and cons embedded, the stock carries a Zacks Rank #3 (Hold). You can see the complete list of today's Zacks #1 Rank (Strong Buy) stocks here.
More Stock News: 8 Companies Verge on Apple-Like Run
Did you miss Apple's 9X stock explosion after they launched their iPhone in 2007? Now 2017 looks to be a pivotal year to get in on another emerging technology expected to rock the market. Demand could soar from almost nothing to $42 billion by 2025. Reports suggest it could save 10 million lives per decade which could in turn save $200 billion in U.S. healthcare costs.
A bonus Zacks Special Report names this breakthrough and the 8 best stocks to exploit it. Like Apple in 2007, these companies are already strong and coiling for potential mega-gains. Click to see them right now >>
Want the latest recommendations from Zacks Investment Research? Today, you can download 7 Best Stocks for the Next 30 Days.
Click to get this free report
New York Times Company (The) (NYT): Free Stock Analysis Report
Gannett Co., Inc.¿ (GCI): Free Stock Analysis Report
New Media Investment Group Inc. (NEWM): Free Stock Analysis Report
McClatchy Company (The) (MNI): Free Stock Analysis Report
To read this article on Zacks.com click here.
Zacks Investment Research